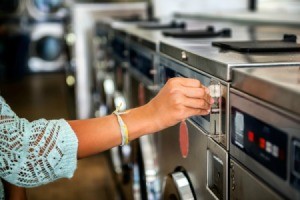 Having a washer and dryer all to myself was one of the items I thought was a "given". Single living, condo living or apartments may not allow this. I share a washer/dryer with 4 other families. Since I love where I live, I had to learn several tips to make life easier as well as more affordable. Some you can use in your house saving money, life of the clothing and saving time.
Laundry soap has many things in it that fades your clothing. Watch for sales on green organic kinds of detergent. Buying larger bottles saves per load also. Did you know MOST hair shampoo is just a lighter form of detergent? It isn't the kind I use of my hair but works fabulously in the washer.
Those huge containers are very hard to carry, it is also very hard to get the right amount each time. I have the perfect answer. Using microfiber clothes, old wash rags or squares of left over fabric, take the amount you want to use and pour on cloth. Personally I like using about 1/4 less then recommended. I fold into quarters, allowing it to absorb before laundry day when it's possible. I let it dry on cookie sheet, stack them into a plastic zip lock bag. Then when it's laundry day, I take out one, put into laundry and save my back. I can take out only what I need right with that load.
Looking at local fabric store, I found so much fabric that was only 25 cents! Check out the bin where scrap pieces are. Make sure if it is a color that would bleed, you to allow that to happen before putting your soap cloth into washer. I have used sponges also when I first started doing this. I just found they don't absorb like microfiber or good cloth.
I separate everything as I go. Since I don't do laundry every other day now, I need to put wet wash rags and towels over the side of basket to dry before putting with other clothes. Wasting money on more then one basket didnt work for me, I use the packing bins with lids inexpensively bought for $2.50 each. I can easily carry these, they hold more and are larger. The flimsy kind at the Dollar Store fell apart, investing in these bins actually saved me money. Since I sort throughout the week, I have one for colors, whites, etc. I just put the top on and they stack out of the way. The lid makes it so odors and humidity (my air is damp due to sea air) doesn't cause additional work.
I had little orange (like rust) on my clothes, this is caused by air or having clothes in a dark,damp place. I found a rust remover after doing research. I found your washer can also cause this. The water makes machines rust. We all have different water depending on pipes and they area you live. This happens every where. After getting rid of the spots, I add a baking soda and salt mixture once in awhile, especially to the whites. It brightens your whites while cleaning the machine.
My old vitamin bottles work great to have premixed for carrying this to laundry room. Use 1/2 baking soda to 1/2 salt. If your water isn't a problem for you, it's still great for your whites! Bleach ruins all clothing. If you are not careful, it can be dangerous if split or pour directly on clothes.
I spot check before I even put in my bins, way before wash day. Allowing anything to sit isnt good, so just try remembering that sauce you dripped at dinner. Spot clean it or put a little dish soap on that area. Allow it to dry before putting with the rest of the laundry. You can use lemon juice on collars or under arm stains before wash day. Have a small child or husband who works bringing not wonderful smelling clothes home? Check for spots, stains and leave an orange, lemon or lime peel in the bottom of your dirty laundry (cucumber peel works too), making sure you take your baking soda/salt mixture with you.
Use a lingerie bag (get at Dollar Store) for bras or other things you don't want to put in dryer. I do same thing with these items, just putting them in the bag when dirty. It also keeps hooks from snagging other clothes and makes these things last longer. Washing these in bag makes it so easy not to put them in the dryer by accident. They come in several sizes. A couple of my tops are delicate. Instead of having to do by hand, I just put in lingerie bag. Works great!
I wash out the machine before I use it. Sharing is great but not in this case. I keep my quarters in a plastic bag, grab premade laundry cloths and my sorted laundry, making it all so much easier. If you go to a laundromat, I recommend going to the same one. Knowing how long each machine takes, costs and upkeep on them all goes into making it as simple as possible.
If like me, you just share with neighbors. Except emergencies, we all try to do it on same day. That way it is fair for everyone, while allowing me not to have to rush or find clothes left in machine. I time my clothes, not letting them set in dryer will prevent wrinkling. The cost is so much, I can't afford to just let it spin over again. Don't over load your machine. Put things in evenly, spreading towels, jeans or larger items around center. Put your cloths you made in halfway when loading the machine. It gets the soap evenly distributed much easier. I use cold water on everything. Since I can't control water temperature. using my booster works great.
I use the same microfiber over and over so the rule of not putting in dryer doesn't apply when you have premade your laundry cloths. With mine, these are a different color then my other microfiber which never goes in the dryer (what makes microfiber work is ruined by softener). Make sure if you use as many clothes as I do for cleaning, drying or dishes, you recognize the ones that you use for laundry only. I like drying them with clothes so I can make others right away, allowing me not to think about it again for a week.
You can do this with softener too. Just do the same thing; pour onto cloth (or sponge), allow to dry and add to dryer. If you use dryer sheets, put how many you need right on top your wash load. No need to carry the whole box. Going to laundromat, just put how many loads you have in separate baggie. The balls are great for laundry rooms near your apartment or in your building. You can fill it before going out (have more then one). That way, it's all done in the washer. You haven't carried heavy bottles, had to spend time sorting, missed a stain or wasted money on having to do a load over.
I save money on drying, which where I live costs more. If over loaded, it doesn't dry every item and I can't control the temperature, except two settings. I take hangers out when washer is done, hanging jeans, shirts that are 100% cotton or any other thing that I just don't like putting into the dryer. Putting these directly on hangers saves you time and energy.
I get my income at first of the month, laundry is in my budget. When I do bills or food, I get quarters. I have a dish where they are kept until I put how many I need into my baggie. I love where I live, not having a washer and dryer not so much. It can be made easy by doing a few things ahead of time. Now when I do get my own back, I'll still do many of these things. Now I have clean fresh smelling clothing without doing half loads, wasting water, detergent or ruining a shirt by not having a system.
By Luana M. from San Diego, CA
Comments
Read More

Comments