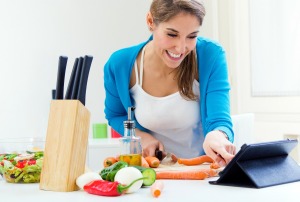 When you're sharing a recipe with others, please remember to add "cook's notes" to the recipe if preparation might be unusual. You will be appreciated greatly if your notes are added. For example, I have just finished making a recipe called "Minnesota Apple Cake" that I got several years ago from a Minnesota paper. Although I have been baking for more than 50 years, this recipe's preparation was very unusual (to me) and after popping it into the oven, I have no idea what I will end up with.
Part of the prep was to combine 2 cups of sugar and 1 cup of oil in a separate bowl. Directions said "pour into egg mixture ..." that mix did not pour because it was like sludge sliding down out of the bowl. And later in the preparation, I was to "pour the batter" ...
I had to scoop out the batter it was so thick and no way did it spread. In fact, I was so disgusted that I turned the mixer bowl upside down on the counter to see if it would move, and it didn't! Now, this creation may turn out to be one of the finest cakes I have ever made, but I'm not banking on it right now! A simple notation or two by the originator would have saved me a lot of worry!
By Ronsan
Editor's Note: This was added some days back. I hope that Ronsan will let us know how the cake turned out.
Read More

Comments