I started a hanging tomato garden, and not having anything to hang them from, I built a trellis using the 1 1/2 inch and the 1/2 inch PVC piping. The milk jugs I used for my garden fit perfectly on the 1/2 PVC piping, and will sit on top of the 1 1/2 inch PVC piping rectangle trellis I made!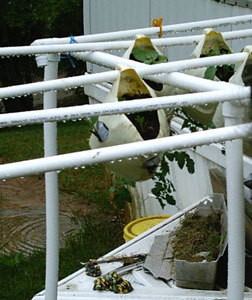 Use a milk jug to hang the tomatoes upside down, by putting a two inch hole in the bottom and using a newspaper square with a slit in it to keep the soil in. You can even plant other plants in the top like pepper plants! I have squash in the top of this, and plan to use the trellis to keep it off the ground.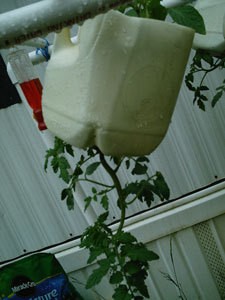 Use another milk jug to create a strawberry plant holder, cut the top off leaving the handle and cut three small holes on the flat sides of the milk jug (look at the picture) poke holes in bottom for drainage and use the styrofoam peanuts found in packing material or any other torn up styrofoam (recycle!) in the bottom instead of gravel to keep the container from being heavy. You can hang this container, or leave it sitting like you would if you had bought an expensive strawberry pot!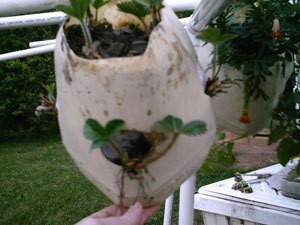 By Sharon from Fairview, NC