To get your hair the shinest it's ever been and to get it to feel great, it is very good to put mayo on your hair and let it set for 10 to 15 minutes. But, you must completely rinse it all out. If you don't your hair will be more greasy than John Travolta's in "Grease" and it will smell like my grandma's potato salad. So be careful and I hope my tip will help.
By Jenny

Answers:
Shiny Hair with Mayonnaise
If you have oily hair try using a can of flat beer instead. It gives you the shine without the
greasy effect of the mayonnaise. (10/04/2004)

Shiny Hair with Mayonnaise
For a better result smash a ripe avocado and blend it with mayo. (05/25/2005)

By Cece
Shiny Hair with Mayonnaise
It is a great tip, but not for baby fine, slightly oily hair. The vinegar works better, but I
have never tried the beer. I have mixed feelings about that. (05/17/2006)

By Kelly
Shiny Hair with Mayonnaise
I am African American and was wondering if the Mayo would work on my hair type as well?

Editor's Note: It should work on your hair as well. (05/05/2007)

By Sybil K.
Shiny Hair with Mayonnaise
To get rid of the smell, you should add about tablespoon of imitation vanilla/vanilla extract and an egg. It works just the same, and it smells like ice cream. (07/12/2007)
By Julie
Shiny Hair with Mayonnaise
Wow, I did this last night. Except I kept it on my hair for 3 hours. It worked wonders. My hair is overly processed and really dry. Not anymore. Shampoo'd it out, then used conditioner like usual and the results were worth the trouble. The trick is to wrap your head with a plastic
grocery bag, put a paper towel underneath by the nape of your neck to catch the oil that drips, then wrap a towel around the bag like a turbin. (07/18/2007)

By Audrey
Shiny Hair with Mayonnaise
I've tried the regular mayo, but couldn't deal with the smell. Now I use use organic root hair mayonnaise and it works great. It's non-greasy and no smell. Works wonders on overprocessed hair. (07/18/2007)

By Sue
Shiny Hair with Mayonnaise
After reading all these posts, I thoroughly expected this trick to work. It didn't. My hair looks and feels exactly the same, if no frizzier. I did exactly what people said to do so I'm a bit confused. Does it only work on certain hair types? I have normal thickness, brown hair.
(08/01/2007)

By Jen
Shiny Hair with Mayonnaise
Do not use light mayo, use real mayo. Best Foods is best, it is the cholesterol in the mayo that
makes the difference. Yes, vanilla extract works for the smell, but don't use a lot, the alcohol in the extract counteracts the cholesterol. Another option is to mix fresh egg and olive oil to make homemade mayo. Only use this if you have thick coarse dry hair. It may make thin hair oily.
Attached is a picture of how shiny my hair got after using it. (12/05/2007)

By GES.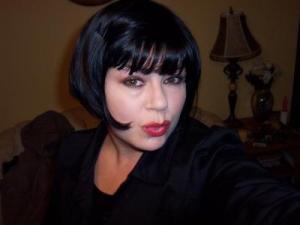 alt="RE: Shiny Hair with Mayonnaise">
Shiny Hair with Mayonnaise
At Wal-Mart today I bought Hair Mayonnaise: olive oil, egg, and other oils, but it smells great. It's worth the extra dollar. (05/13/2008)

By Erica
Shiny Hair with Mayonnaise
Mayonnaise really doesn't work.
It just makes your hair stink.
I tried it and if anything it made my hair worse. Regular heat treatments once a month and taking care of your locks such as using protection when heat styling and getting a trim every month does the trick. It does with me anyway. (07/12/2008)

By Mandy
Shiny Hair with Mayonnaise
I mixed 1 tbs of mayonnaise with a about 2 tbs of my conditioner and kept in in for about 15 mins. I have very dry and brittle hair and was desperate for something so I took a chance when I
used the mayo. Needless to say my hair is shiny and doesn't look so brittle anymore. (08/21/2008)

By Leonie
Shiny Hair with Mayonnaise
This is an old hair conditioning style, African Americans have been using this for years to strip perms. It works, my aunt would mix it with an egg and honey and press our hair when me and my
cousins were young we had long black shiny bouncy hair. She also used beer as a conditioner. I forgot about this technique until now. Organic Stimulator has a hair mayo, but nothing beats home
made. I am using honey, mayo, and olive oil to grow back my hair. Damaged hair needs moisture and these three are bound to work. Thanks for the reminder. (09/24/2008)
By Tonya
Shiny Hair with Mayonnaise
You should really put mayo only at the end of your hair. Trust me just leave it for 40 minutes.
Now you'll get that shiny hair. (10/10/2008)

By Lyn
Shiny Hair with Mayonnaise
Fried my bangs, left mayo on overnight and now my bangs are much less fried. It didn't strip out the red hair color I just put in the same day either, but I did use a permanent dye. (01/26/2009)

By Sonja
Shiny Hair with Mayonnaise = WORKS
I tried this thinking it couldn't hurt as my hair was totally fried from bleach. It got to the point that after washing and conditioning, I couldn't get a brush through it to dry it. It felt sticky and stretchy so I had to rough dry it and tie it up.
I only had mayonnaise light, so I added some olive oil and mixed it up. I wet and dried my hair, slapped it on and left it for about 1 and a half hours. Washed it out, shampooed it twice and used my normal conditioner. I used my normal style protector spray before drying and it was easy to get the brush though it. It still needs a trim and the ends are still ever so slightly fluffy, but it is 80% better than it was.

Can't believe the amount I have spent on intensive conditioners in the past when I have had this in the fridge all this time. While I was sat there with mayonnaise on my head I thought I
might as well put on a face mask. So I went to the kitchen and mixed up some porridge oats and honey and covered my face, neck and chest. I used it as an exfoliator when I washed it off. My skin was glowing and soft. It's unbelievable how good these cheap treatments are. Totally recommend them. (08/07/2009)

By Goldenbadger
Blahh, Head lice.
I'm currently using this treatment in my hair as I discovered I have lice. Apparently it works.
I've read a lot about cold water so I guess I'll do that. Wish me luck and I'll post a response with the results. (08/20/2009)

By Ashley