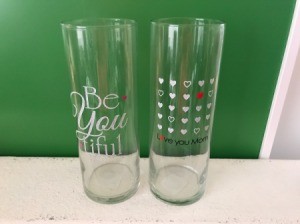 If you shop after Seasonal Holidays like Valentine's Day, Mother's Day, Halloween, Thanksgiving, Christmas, etc. you can save at least 50-75%, if you are lucky some stores even offer up to 90% off.
I went to Walmart for some essentials today and they had an entire aisle dedicated for Mother's Day clearance. I was very surprised to see Walmart was still offering Mother's Day items on clearance. When I shop clearance, especially after seasonal holidays, I look for universal items that can be used for multiple occasions. For instance, I picked up these two beautiful glass vases that will be universal throughout the year for just $1 each, originally $4.
Left Vase says: BeYouTiful and this vase can be universal for any occasion, just because, during Valentine's Day, Birthday, Anniversary, Christmas.
Right Vase says: Love you Mom with assorted hearts: Again, this does not have to be for Mother's Day only, you can use this vase during Valentine's Day, Birthday, Anniversary, or just because.
Even though seasonal holidays may be geared toward a specific holiday, you can look for items that are universal and fit for more than just one occasion.