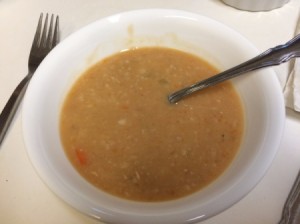 We were snowed in today, so I made this soup to warm us up after shoveling. The original recipe required soaking the dried beans, and adding ingredients partway through the cooking. The slow cooker allowed me to put all the ingredients in, and go about my day. The soup is delicious, and the house smells divine! Leftovers freeze well for future busy days.

Prep Time: 15 minutes
Cook Time: 8 hours
Total Time: 8 hours, 15 minutes
Yield: 8-10 bowls
Source: Adapted from Prevention Magazine
Ingredients:
1 lb bag dried beans (Northern, pinto or black beans)
6 cups reduced-sodium chicken broth
4 cups water
1 med onion, finely chopped
2 ribs celery, chopped
1 carrot, finely chopped
4 cloves garlic, minced
1 bay leaf
3 Tbsp tomato paste
½ tsp salt
½ tsp ground black pepper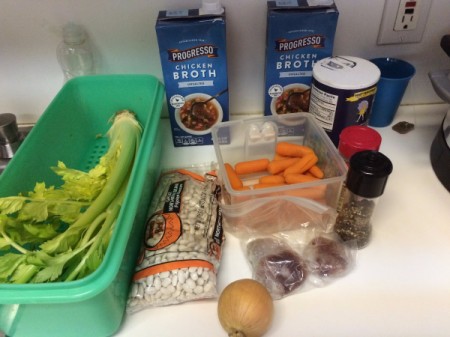 Steps:
Rinse the beans in a colander.

Chop the vegetables.

Put everything into the slow cooker. Mix together.

Add a bay leaf.

Cook on low for about 8 hours.
Remove the bay leaf. Eat as is, or use an immersion blender to blend to desired smoothness.
February 10, 2017
0

found this helpful
Top Comment
Personally, I don't buy broth or stock. I just use a heaping teaaspoon of beef-vegetable or Minestrone soup mix from the Bulk barn. Unlike store bought broth or stock, it does not have any phony taste enhancers in it. There is even a kosher sign on the bin. I am not religious, but that sign tells me that the ingredients are all inspected and OK'd by independent people, who are concerned about quality, not profits.
While living in the Yukon I got used to add some chopped, wood-smoked bacon for the fat to balance the beans. It's not that cold here in Alberta, but I still like the flavor, that even a few small bits of bacon adds.
Try the thick sliced, wood smoked Mennonite bacon. It is firm and dry, not like the liquid smoke dipped brand name bacon. You need a lot less because the flavor is much stronger.
Have FUN!
DearWebby