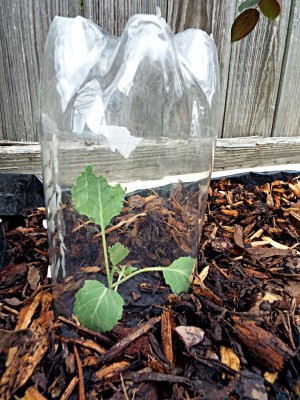 I was given a packet of cabbage seed. I planted them without reading the packet information. Later, I read that this Brunswick variety is best planted in the fall.
I consulted my ag agent for advice. He tells me the cabbage should do fine. Since cabbage is a cool season crop, I should grow them as quickly as possible, getting them to mature before the really hot weather sets in.
He advised that the plants be mulched heavily and kept well watered. So, I laid down black plastic around the plants, then added a 3-4 inch layer of pine chips.
Besides helping to retain moisture, I'm hoping the plastic will help conserve heat. This should keep the roots warmer at night and help them grow faster.
The soda bottle dome will serve two purposes as well. Besides helping keep the cabbage moth and its worm at bay, it too should help conserve heat.
As you can see, the young, tender leaves have already been attacked. I should have covered them earlier. I saw the cabbage moth flying around as early as a month ago.
I use chemical insecticides as little as possible on my lawn and ornamentals, and I don't use them at all on edible crops. I am always on the lookout for better and more natural ways of dealing with pests.
As the cabbage matures, the cabbage moth will become rampant. At that time I will remove the soda bottles and replace them with a nylon row cover. It is very effective at keeping the moth away from the plants. A 14 ft x 14 ft cover can be had at Lowe's for as little as $5.00. They will last several seasons.
If you plan to grow any brassica this spring or later this fall, please do all you can to discourage the proliferation of this moth. They do serious damage to our food crops each year, and their numbers are on the rise. And of course deterring them by non chemical means is always best.