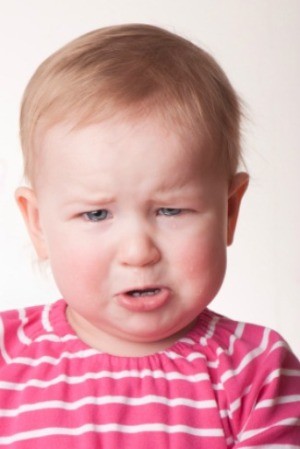 When it comes to restraining a child, there are good restraints and there are bad restraints. Obviously, tying a child to a chair is a bad restraint, but when a child is riding in a car, a car seat is a good restraint. The method you are about to learn involves a good and harmless restraint. Good because it will put an end to tantrums, which is not only good for you, but for the child. The restraint in this method usually only lasts for less than 15 seconds and you will probably only have to do it once or twice, then the tantrums will stop. Here is the method:
You must be consistent with this and do it as soon as you see a tantrum begin. No matter where you are, get on your knees on the floor, then place the child on your lap with his back facing you.
Wrap one of your arms around your child's arms, wrap your other arm around his legs. Be gentle, the intention is not to hurt the child, but simply to keep him from flailing his arms and legs.
Next, put your mouth next to the child's ear and speak in a soft voice. The child will have to pipe down some in order to hear you. Say something like, "When we throw our arms and legs around, we can hurt ourselves and other people, so I am going to hold you here until you are still because I don't want anyone to get hurt." The child will most likely be still and silent before you finish the statement.
Then let the child go. If the tantrum starts again, do the same thing all over again. Do this each time a tantrum begins.
After you do this once or twice, all you should have to do is start walking towards the child when a tantrum is about to begin, and the child will stop the tantrum himself. At that point you will know that the battle against tantrums has been won.
By Joy from Fairview Heights, IL
Read More

Comments

I have a 3 year old that has huge temper tantrums! How can I stop this?

C from Jacksonville, FL

Answers

Judi
Bronze Feedback Medal for All Time! 239 Feedbacks
June 30, 2008
0

found this helpful
Bless your heart! We've all been through that stage and come out the other end so you'll make it! I would tell my children that they could have a "fit" all they wanted but they had to do it in their rooms. They could come out when they could be nice and not until. When they came out it was as if nothing had happened. My childhood education prof. called it taking your wind out of their sails. I refused to participate in the tantrum...period.
I would remind them that this behavior would get them taken to their room and give them about 5 seconds to stop and then I'd carry them in and leave them there with the door shut. No amount of screaming or kicking or whatever would get my attention. Then, as I said, when they came out we would all behave as if they had just awakened from a nap or something and carry on as if nothing had happened. Worked for us with only a few times in the rooms.
By Jenn (Guest Post)
July 1, 2008
0

found this helpful
I have the same problem, the first feedback is great, I will try it as I am always participating in the tantrum. Thanks
Jenn, Jacksonville FL

July 1, 2008
0

found this helpful
Only one of my children tried a temper tantrum. It was so funny-looking that I laughed. She never did it again.

July 1, 2008
0

found this helpful
Thank you ! I will try this...HOPEFULLY it works because I CAN'T take anymore!!!

Julie
Bronze Feedback Medal for All Time! 149 Feedbacks
July 1, 2008
0

found this helpful
Ahis makes me think of the Andy Griffith episode where Opie threw his fit in the floor of the court house, and Andy ask him what he was doing and Opie stopped to say having a fit thinking it would get his dad's attention even more but Andy just said, "oh, well don't get your britches dirty", so funny. My 4 yr old grandson who I watch each day has now started testing me in the same way and I ignore him.
As long as I know he is safe, he sees he is not getting attention and stops. I even say to him at times "let me know when your over your hissy fit". He thinks that's funny and forgets about it and we go on with other things as normal. Just be patient and this to will pass. and next month it will be a whole new thing of something else they try. lol
By Thrifty Gal (Guest Post)
July 2, 2008
0

found this helpful
One man I know instantly cured his nephew's temper tantrums in a highly amusing way. When the child threw a fit, this big man threw himself down on the floor, and did exactly what the child was doing--kicking, screaming, the whole bit.
It scared the kid so much, that his mom reported that he never threw another tantrum, LOL!

July 3, 2008
0

found this helpful
I'm a preschool teacher and a mom of a preschool age son too, so I've seen LOTS of tantrums over the years! :) Here are a few tips that I hope will help! Sometimes children have a hard time with transitioning. Say, for example, they're playing but you need to run to the store. Instead of just scooping them up and away from what they're doing (which could cause a tantrum), what I do with my son is give him forewarning. I'll say, "Okay, you can play for a few more minutes, but after that, we have to go to the store". That way, he knows what to expect.
Also, before you go into a store or other public place, let them know what kind of behavior you expect from them. For example, "We're going to be using inside voices and walking feet while we're in the store". I know that kind of language seems silly, but terms like "walking feet" and "inside (or quiet) voices" are easy for kids to understand and clear cut.
If a tantrum does happen, at home or in public, try to remain calm. I know--easier said than done! But the child needs to know that you're the one in control. Calmly tell them that their behavior is not okay, tell them what the consequence will be if they don't stop, then FOLLOW THROUGH. If you don't, they'll know that they can throw a tantrum and get away with it with no consequences.
My son recently was playing in his room and I heard yelling. I went in and he was throwing a toy car across the room. I asked what was going on, and he was angry because it wasn't working the way he wanted it to. I told him, firmly but calmly, "I know you're angry, but you do not throw your toys. If you do that again, you'll have to put the cars away and can't play with them". That was enough to make him stop, but in other instances, I have had to follow through on what I'd said, and now he knows I'm serious. Children at this age are testing their independence.
Maybe give them a few choices once in a while: "Would you like juice or milk?" "Do you want to wear the blue shirt or the yellow one?". That way, they feel like they have some sort of control too. Wow--what a long suggestion! I hope that some of it helps though!

July 3, 2008
0

found this helpful
I was so embarrassed, but I threw a tantrum at a grocery store in the frozen food aisle years ago. One of our children starting throwing tantrums after her little brother was born. With four under the age of 6, it was easier to give her what she wanted when it first began. Two weeks went by, and I put my foot down and ignored her fits at home and she quit. But, she was smart and figured out that in public, she could get away with it.
So, after being told by a family member that if I threw a fit, she would stop, I tired it. Of course, it was a Saturday and the grocery store was packed. She wanted ice cream and I said, "No". She started crying and stomping her feet. So I threw myself down on the floor and went to town. I screamed, wailed, kicked my feet and arms, begged, and made a complete fool out of myself. She quickly stopped and ask me to stop. I didn't. I just kept on throwing a fit. She was embarrassed with everyone looking and she walked off. She walked to the end of the aisle and around the corner.
Another mother mouthed, "I got her" and followed her. I got up and tried to compose myself. Two people laughed at me. One said she had a fit thrower once, too. When I went to the end of the aisle and turned, she was waiting. I acted like nothing had happened. I thanked the lady that had followed her. She just smiled. My face was red for a long time, but my daughter never threw a fit again. It works, but it is embarrassing. I promise you will do much more embarrassing things before she is grown!

sandy
Bronze Request Medal for All Time! 87 Requests
July 3, 2008
0

found this helpful
First of all don't reward him just for stopping. We pitched fits and didn't get rewards. I work in the elementary school here. He throws a fit, don't talk to him let him be. You know ignore him. As long as you are paying attention to him he has you. The kids that are rewarded for just doing what they should do anyway, are going down a wrong road or the parents are.

July 3, 2008
0

found this helpful
I was raising a little girl through the terrible twos-which lasted through the threes. When she was two she would fall out on the floor and have a tantrum; I would look at her with one eyebrow raised and say 'when you are done I will be over here', then go sit and read or watch TV. She would be done in a matter of seconds once she realized it didn't push my buttons. Because I would walk away and not look back, even though it was only across the room, she never tried it in public, perhaps because she didn't want to see me walk away there! Her mom did respond to her tantrums when she had her, so she had them all the time when she visited her. Kids are SMART.
By Lynda (Guest Post)
July 4, 2008
0

found this helpful
Watch tv's "the nanny". She has it down to a science that often works well beyond when she leaves. : )

Louise B.
Silver Feedback Medal for All Time! 337 Feedbacks
July 6, 2008
0

found this helpful
The program that I watch is called " Supernanny". Jo, the nanny, is so good with kids. There are lots of great tips that you can glean, and it is good to see that other people have problems too, so it cheers you up! Jo uses a naughty chair, and explains what is expected. There is more to it than that -- the essential thing is not to participate in the hissy fit.
Read More

Answers