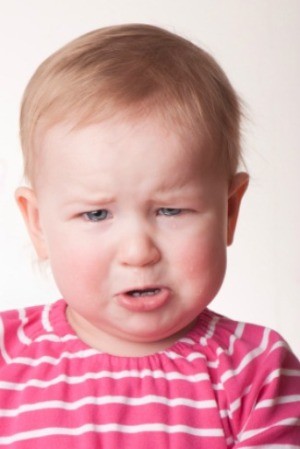 When it comes to restraining a child, there are good restraints and there are bad restraints. Obviously, tying a child to a chair is a bad restraint, but when a child is riding in a car, a car seat is a good restraint. The method you are about to learn involves a good and harmless restraint. Good because it will put an end to tantrums, which is not only good for you, but for the child. The restraint in this method usually only lasts for less than 15 seconds and you will probably only have to do it once or twice, then the tantrums will stop. Here is the method:
You must be consistent with this and do it as soon as you see a tantrum begin. No matter where you are, get on your knees on the floor, then place the child on your lap with his back facing you.
Wrap one of your arms around your child's arms, wrap your other arm around his legs. Be gentle, the intention is not to hurt the child, but simply to keep him from flailing his arms and legs.
Next, put your mouth next to the child's ear and speak in a soft voice. The child will have to pipe down some in order to hear you. Say something like, "When we throw our arms and legs around, we can hurt ourselves and other people, so I am going to hold you here until you are still because I don't want anyone to get hurt." The child will most likely be still and silent before you finish the statement.
Then let the child go. If the tantrum starts again, do the same thing all over again. Do this each time a tantrum begins.
After you do this once or twice, all you should have to do is start walking towards the child when a tantrum is about to begin, and the child will stop the tantrum himself. At that point you will know that the battle against tantrums has been won.
By Joy from Fairview Heights, IL
Read More

Comments

I'm 22 and have a 16 month old son. He gets very angry and has started kicking doors and biting himself hard enough to leave marks. I've tried to stop him and explain to him that what he is doing is wrong. I feel like I'm hitting my head of a brick wall. Any ideas?
By Becky_Mason
Answers

cettina
Bronze Request Medal for All Time! 64 Requests
February 6, 2013
1

found this helpful
It could be that your child is just willful and needs strict discipline (I had one of those!) But...it could also be that your child is crying out for help because he has issues and cant explain them to you (I still have one of those!). Why dont you take him to your doctor for an assessment? He is still very young and may actually grow out of it, like my eldest did. But my youngest still has issues which I didn't comprehend for a long time, because I thought he was just naughty but it wasn't...it was a cry for help. Your doctor is your best bet.

February 6, 2013
1

found this helpful
Try changing his diet. My son was similar with temper tantrums and fits of rage and when I took him off of food dyes - yellow, blue, red dyes and sugar, he was a new kid. Put him on a whole food diet with unprocessed foods - meat, veggies and fruit, and you will see a huge difference. Check out any other food allergies he might have like wheat or dairy. I know it sounds like lots of work, but you will reap the benefits throughout his life with less trouble ahead in school, as a teen and with good health, etc. A lot of children change dramatically when put on a diet of unprocessed foods and avoiding allergens. No chemicals, artificial ingredients or sweetners, etc.

February 6, 2013
0

found this helpful
Try not to talk about this in front of him to others. He may sense that you are upset and will continue on. Try to divert his attention onto other interests when you sense that he is building up to this.
Read More

Answers