May 9, 2013
0

found this helpful
You didn't describe the appearance of the eaten pecans. I searched the Internet for pictures and articles by entomologists to corroborate my findings. I couldn't find any. I took this picture of empty pecan shells I had kept over the years for reference.
If the damage to your pecans looks like what's pictured here, I am certain the damage was done by a roach. Not the small common roach, but the quite large Oriental Roach. These roaches prefer dark, damp places and are commonly known as 'Waterbugs'. They usually wait two or three hours after all lights have been turned off before coming out of hiding.
You could pay an exterminator several hundred dollars for services, but if the roaches find your home to have conditions to their liking, you wont get rid of them completely unless you change those conditions.
I had a heavy infestation and was able to reduce their numbers to near zero with boric acid. You must always keep this powder present in areas where the bugs travel.
Most dollar stores sell a pint container of boric acid for about two dollars.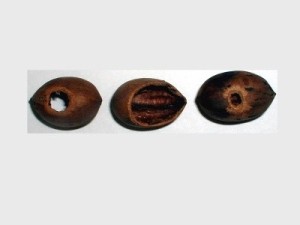 May 9, 2013
0

found this helpful
A friend, husband, or visitor ... easy if you leave them out.