Has anyone ever had yellow stains around the zipper? It just turned yellow, it is a white purse.
Answers:
Stains on a Dooney and Bourke Purse
I have two of the IT bags from Dooney and Bourke, and both are only a few years old. They were white, and now have turned a lovely shade of yellow. I'm going to bring them to a cleaners and see if it's something that can be fixed, but I am extremely disappointed in this company now, and don't plan on buying another bag from them. I have a total of 4 bags from the company and they all have their own small problems. (04/15/2008)
By Heather
Stains on a Dooney and Bourke Purse
I have the Dooney and Bourke white heart barrel purse. It has now turned a nasty yellow color. After reading your comments I am very upset with the Dooney and Bourke company. When you pay $150 for a purse you expect it to hold up. I've only had mine for one year. What a piece of junk. I'm not sure if I should buy any thing else from that company ever again. (05/04/2008)

By Liz
Stains on a Dooney and Bourke Purse
So I'm guessing the yellowing isn't repairable? I also purchased a white barrel purse a year and a half ago and noticed just a month ago that it had turned yellow everywhere except the bottom. I scrimped and saved for that purse and it cost me $250, then I learn (conveniently) just over a year later that it's ruined!
I've been searching the net to see if there was a way to repair it because apparently D&B won't refund me or repair my purse since it has been over a year. I kept my purse in my closet which was cool, shaded, and had plenty of air circulation so I have no idea why this would have happened. If anyone has any suggestions to try, please let me know! (05/20/2008)
By Meghan S.
Stains on a Dooney and Bourke Purse
I'm starting to think maybe I should stick with coach. (06/05/2008)

By yvette
Stains on a Dooney and Bourke Purse
I have one that has yellowed, too. It is so ugly and I didn't send mine to D&B because I had already read that they won't replace it. That stinks! See the photo! (06/11/2008)

By baggirl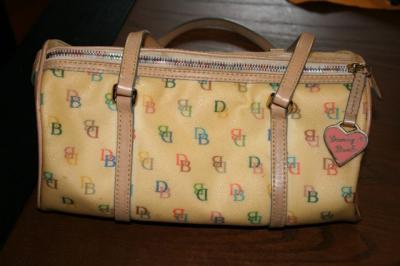 Stains on a Dooney and Bourke Purse
I just received my letter back from Dooney and Bourke and they fed me the same stuff! Buy a new more expensive purse for $155+ or they'll send back my old purse and still charge me to fix things that should not have happened in the first place. The worse part is, I spent $10 on shipping and they expect me to pay shipping fees again on the return or new purchase! There isn't even one purse on the website that I like enough to put their measly credit towards! VERY DISAPPOINTED.
P.S. The GUESS purses are much cuter for the money & are probably made better for. I've been borrowing my daughter's and it's in great condition. I guess my next letter will be to the newspaper, for I am friends with the editor. In these trying times, dooney should be kissing everyone to get sales. (08/08/2008)
By Deanna
Stains on a Dooney and Bourke Purse
I bought my wife a Dooney IT bag. It has also turned a nasty shade of yellow. She didn't use it very often. It mostly sat in a dark closet, but the small amount of light that reached it was enough to turn it ugly shades of yellow. There is no doubt Dooney has a quality problem and they're still selling this crap. The bag was never mistreated, and always stored properly. The Dooney we just bought for my daughter will be going back to the store now. It's not worth the trouble. (08/11/2008)
By Karl
Stains on a Dooney and Bourke Purse
I also have a white IT bag from Dooney and Bourke, approximately 4 years old. I would expect this bag to last longer and I am very disappointed! I was planning on trying to get my money back or a new purse but it seems other customers were unable to get anywhere with the company. I will be sure to pass on to everyone how bad their quality is. (08/13/2008)

By Jen
Stains on a Dooney and Bourke Purse
Never again that I will buy another one from this company. It sucks but it's true. I tried cleaning my "IT D&B bag" and nothings work. Unless somebody discovers how to clean it right that wants to share it. (08/16/2008)

By Lennie
Stains on a Dooney and Bourke Purse
Mine ripped and I can't get my money back. It was a $150 wallet. I will never buy D&B again, or recommend it to my friends. (08/22/2008)
By Marianna
Stains on a Dooney and Bourke Purse
I got a red Dooney Rope bag for Valentine's Day. I have 8 Dooney's, but this one was my favorite. 4 months after I received the bag I discovered terrible blue jean fade on it. I couldn't believe the material had stained like it did. It just so happened I was near a Dooney outlet when the fade occurred. The manager looked at it and told me to send it back and that I would get a new one. She even gave me the shipping label.
Well, I sent the bag along, and too bad for me. They would only give me half the purchase price on a credit. I couldn't even get anything "on sale", it had to be full price. I hate this, because I really love the purses, but I am really disgusted on how they handled this. It seems like customer satisfaction should mean more than that. (08/24/2008)
By Cherie
Stains on a Dooney and Bourke Purse
I had just contacted the company on my Dooney and Bourke IT barrel purse and they gave me a line of nonsense about it being the natural aging of the leather. They conveniently stated that I could send it back and get one at 1/2 price, but not much more was offered to me. Unbelievable! I will spread this around and tell ALL my friends to NOT BUY DOONEY AND BOURKE! Their prices are very high but their customer satisfaction is LOW. The purse was a year old in July. Never again will I deal with this company! (09/08/2008)

By Beth
Stains on a Dooney and Bourke Purse
I also have the same problem. I was cleaning out my closet and I have the It barrel and bucket one, also the matching watch. 3 months after I purchased them, they got yellow and I didn't wear them often. So to make a long story short, I decided to Google in hope to solve this issue instead of throwing them out, but I'm very disappointed to see what bad customer service D&B has. (09/10/2008)

By Nancy
Stains on a Dooney and Bourke Purse
I am very upset about the purses from D&B, I have 2 of them and they both turned a yucky yellow color. I tried cleaning it and taking it to a cleaner, and nothing worked. I will never buy a D&B again. (09/18/2008)

By Heather
Stains on a Dooney and Bourke Purse
I cannot believe that so many people have this same problem. I have the same white barrel purse someone posted an image of and mine looks JUST like it now. I thought I was doing something wrong. Mine was a Christmas gift and I am amazed at how terrible it looks. I loved that purse and was expecting the leather handles to fade but didn't expect my white $160 purse to turn yellow in six months. I have been searching online forever to find a way to clean it, I was even willing to pay dooney and burke to clean it. Apparently they don't care about their product. I also had the matching $60 wallet...which I ended up just throwing in the trash it was so terrible looking. Nice. I'll never buy or recommend to anyone. That sucks. $320 in the trash. (10/02/2008)

By Shawna
Stains on a Dooney and Bourke Purse
Keep reporting the company to BBB. Just because it's a brand name doesn't mean you can't complain about them. (10/24/2008)

By christine
Stains on a Dooney and Bourke Purse
Well ladies, I have experienced the same problem with my bucket bag. Today I came across a couple in a re-sale store which all looked fine. I pulled my bag out and tried to clean it with a Mr. Clean "Magic Eraser".... no luck! There has to be something we can do. I paid $130 for this bag 2 years ago. I wish someone could explain to me how Dooney & Bourke can get away with what is an obvious defect in a product. (11/08/2008)

By Denise
Stains on a Dooney and Bourke Purse
WOW this is crazy. I have had my D&B for only about 6 months. It's been about 2 months since I used it. I pulled it out of my closet and it's a highlighter yellow. It's disgusting, I have tried everything. I even sprayed some Clorox Spray on it and let it set for about an hour. Nothing happened. I will never buy a product from them again. (11/09/2008)
Stains on a Dooney and Bourke Purse
I tried everything to clean my purse, and nothing would work. I wanted to sell it on ebay because an ex bought it for me, but it looks horrible. I emailed Dooney and Bourke but I got no response. (11/13/2008)

By Jessica
Stains on a Dooney and Bourke Purse
I just took my white It bag out of the closet to sell on ebay and it is yellow. I googled how to get the yellow out but ended up here with everyone else. No more Dooney and Bourke for me, I will stick with Juicy Couture or Coach. Thank you for all of your similar incidents, I won't waste my time trying to clean it. (11/27/2008)

By Cynthia A.
Stains on a Dooney and Bourke Purse
This may sound kind of silly but I've had my Dooney purse for over a year and it's still white. I've used it maybe 40 days out of that year. When I'm not using it I store it in a vacuum sealed bag and put it in a hat box.
I heard that this is how shipping factories store. And it works great. My sister does the same thing and her purse is white also. (12/18/2008)

By brandy