How do I remove stains from a Dooney and Bourke purse? It is a yellow stain.

By Janet Riddle from Jacksonville, FL

Answers:
Stains on a Dooney and Bourke Purse
Dooney and Bourke home page. You can also click the 'Live Help' link at the bottom of the page:
dooney.com (05/17/2009)

By Joy
Stains on a Dooney and Bourke Purse
I have found a solution! Note: This is not for the faint of heart!
I have a white DandB bucket bag. I wanted this purse so badly. I took excellent care of it. I was devastated when I noticed it yellowing. I have never had the purse around smoke of any kind. It didn't make sense that it would be changing color. The bottom is completely perfect, still. I decided that enough was enough, nobody has yet posted anything online that gets rid of the yellowing so I decided to figure it out on my own.

I clipped away a tiny piece of plastic and noticed that the fabric under it was yellowed just as badly as the plastic coating. I decided that all the scrubbing in the world would not penetrate to get rid of all the stains. This is where you need to be brave and trust me. I ripped the plastic coating off of one entire side of my purse. I know it was a scary move, but it needed to be done if the purse was going to be saved!
I tried every cleaner I could think of. Nothing, not even a bleach pen was working. Then my mom suggested I use fels naptha soap. This is a yellow bar of soap that can probably be found near the detergent of your local Kmart/Wal-Mart/Target.

I wet the side of my purse and scrubbed the fels naptha all over. Then I took an old toothbrush and scrubbed even more until I had a good sudsing all over the purse. I set the purse in front of a fan to allow it to dry. When the purse was dry, I then took it to the sink and washed it off with a white wash cloth. I set it back in front of the fan to dry again and was amazed at the results!

I repeated the process, only the second time I added a layer of Colgate baking soda and peroxide whitening with oxygen bubbles brisk mint paste. I noticed that this made some improvement when I tested it on a small section of the fabric, so I figured, why not? Every little bit helps. (07/28/2009)
By Princess20
Stains on a Dooney and Bourke Purse
Here is how dark my purse was before compared to the bottom. (07/28/2009)

By Princess20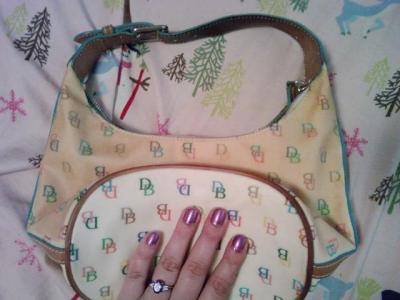 Stains on a Dooney and Bourke Purse
Here is what the side that I have started working on now compares to the bottom. It's not 100% yet, but there are just a few darker spots left and I'm sure with a couple more washes I'll be able to proudly take this purse back in public! Thanks for nothing Dooney and Bourke! (07/28/2009)

By Princess20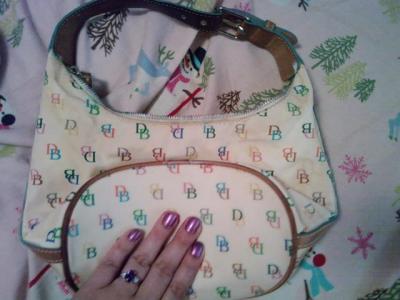 Stains on a Dooney and Bourke Purse
After scrubbing my purse, I wanted to try something different on the other side.
I went to my local store and decided to try some Oxiclean. I highly recommend using OxiClean MaxForce. I used the spray bottle. It worked like a charm! I sprayed the purse and rubbed it in really good and let it set for about 10-15 minutes. Then I rinsed it off in the sink in hot water with some detergent. My purse looks as good as new, minus the plastic coating.
(08/31/2009)
By Princess20