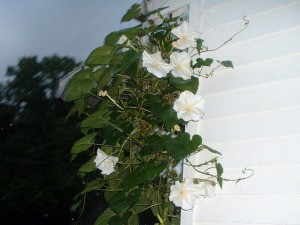 Last Fall, I collected seed from the dried seed pods on the vine pictured here. I brought the seed inside and put them in a saucer to dry for three days.
Then I put the seed in a small plastic container. I put a piece of match book cover in the container to absorb any extra moisture. I put the lid on the container and stored the seed in a kitchen cabinet at room temperature through the Winter.
This Spring (Apr 29), I planted the seed indoors. I did no soaking nor nicking. The soil was kept evenly moist and at around 70 degrees.
Within 6 days, I had one seed to emerge from the soil. I checked other cells and found more seed had germinated but not emerged.
I admit the germ time here is a bit faster than usual, but it does dispell the theory that Moonflower Vine seed should necessarily be soaked or knicked before planting; and by no means should they be given a cold treatment.