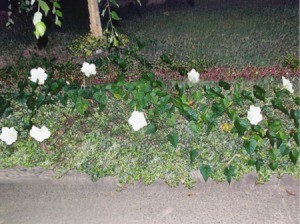 It seems there are always additions or corrections to what I write to ThriftyFun.
Members have written in, complaining that their moonflower vines were taken by frost just before they were about to bloom. I told them the vine requires a long growing season. I advised them to start the seed indoors, beginning as early as late February.
I stand by that advice, particularly if the vine is being grown north of the mid Atlantic states. It's a good rule of thumb, but it seems there are exceptions to that rule.
I didn't plant any moonflower vine seed this year. The novelty had sort of worn off and there were many other things I wanted to grow for the first time.
I have a low bank at the outer edge of my front lawn. I am sprigging it with variegated ivy and have it just about covered. The bank is at least 50 feet from anywhere I have grown the moonflower vine.
To my surprise, a volunteer vine sprouted up on the bank, nestled deep in the ivy. How a seed made its way this far from where I had vines growing the year before is a mystery to me.
What confounds me most is that the vine did not appear til late July. Once I spotted it, I fed it and gave it a lot of water. It grew very quickly. Now, one month later, it is covered in blooms every night.
This event adds a new twist as to when moonflower vines could be planted to insure blooms. Am I saying you can plant seed as late as late July and expect lots of blooms by late August? No, I am not. I don't think that would work at all.
In my state, near the coast, we have some very successful tomato growers. What comes as a surprise to a lot of people is that these commercial growers plant their seed in early winter. The cold keeps the seed dormant til its proper sprouting time in the spring.
My volunteer moonflower vine seed was shed from the vine last fall and stayed dormant in the ground til the right temperatures and daylight hours caused it to germinate. These conditions provided for a strong, healthy, and fast growing plant, something you would not likely get from seed planted in late July.
So, while I would not advocate planting seed outside in late July, I would say you can plant seed earlier, much earlier. What you can do, much like the tomato growers, is to collect the seed from an existing vine as soon as they are ripe. Seed hit by frost will be killed.
The seed can be brought inside and allowed to dry for a week or two. Then they can be planted outside after the first frost. They must be planted where they will have excellent drainage, lest the seed rot. They must be planted deeply enough that they will not be affected by future frosts. Purchased seed could be sown this way, as well.
You might say that my volunteer did not get this special treatment. No, it didn't. This is why Nature causes plants to make so many seeds. With all the adverse conditions seeds are subjected to, if there are many seeds, perhaps a few will meet with favorable conditions. The seed of my moonflower vine was one such seed.
Pardon the picture, my first time to take a night shot.