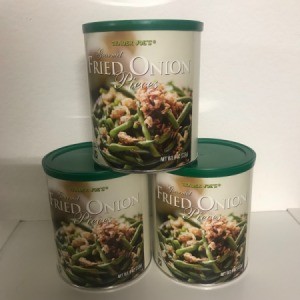 While watching a Vietnamese cooking show - this gourmet fried onion pieces from Trader Joe's was being featured as a garnishing touch for a noodle dish! Many Asian dishes do use fried onion pieces for optional garnishing so this is a time saver! But of course, fried onion is universal for other dishes like: casseroles, salads, vegetables, pastas, curry dishes, soaps, meat loaf and more.
This is actually a seasonal item at Trader Joe's for Thanksgiving and if you're lucky, some stores may still have this left. If they do, it's probably their last batch!
I ended up purchasing 6 containers (3 for household and 3 for my parents) at $2.99 each compared to Amazon and eBay these are selling for $8.99 to $12.88 EACH!
So if there is/are any seasonal item you enjoy, love - you may want to stock up! Also, check the expiration date. These containers are good until 10/23/2019!