I use fishing tackle boxes from Walmart or Kmart to store craft supplies or sewing notions like threads, buttons, needles, beads, etc. I also use one box for kids art supplies like crayons, pencils, markers, erasers, etc. They have adjustable plastic dividers that can be fixed to the size of the item you need to store. I store my earrings and jewelery in one and makeup accessories in another. These boxes have handles to carry them around easily and also stack well for easy storage.

By Rayma from Edison, NJ
January 29, 2005
3

found this helpful
I took a fishing tackle box (discarded by dad) and turned it into a craft box for my boys. I put in crayons, colored pencils, tape, glue, regular pencils and some glitter, etc. Now when the boys want to be creative they can go get the craft box and have fun.

By Reta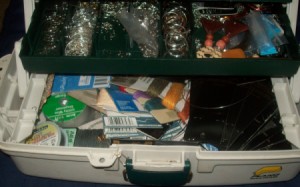 I make handmade jewelry. Whenever I am doing a show, I will carry my tools, extra findings, and some beads with me. I found the perfect carryall. I use a fishing tackle box. I brought the large one to fit my needs. It also has removable walls inside to make the slots smaller or bigger. It is the perfect size for me to carry around.
By Georgetta from Waterloo, IA
April 29, 2009
0

found this helpful
Foldout fishing tackle boxes make great storage boxes for craft supplies and projects. You don't have to search for paint brushes or other items, and you can easily transport your supplies.

Source: My own idea

By Momof1 from Wilkesboro, NC
Answers:
Store Craft Supplies In Tackle Boxes
Also great for storing grooming equipment! I bought things I'd need to groom my dogs myself and found a large tackle box the perfect storage container. It is waterproof so leaving it in my breezeway, I don't have to worry about rusting. Easy to grab and take to friend's homes to groom their dogs! (01/22/2008)

By JoanDogs
Store Craft Supplies In Tackle Boxes
I use tackle boxes for my earrings and necklaces. (01/22/2008)

By Angela
Store Craft Supplies In Tackle Boxes
When I went to Jewelry-Goldsmith Technical College, we'd use Tackle boxes to store our jewelry making supplies like tiny drill bits, files and soldering equipment in. The whole class would bungie 2 or 3 tackle boxes on top of each other on to a luggage roller. This way we could just roll the heavy supplies behind us! A great way to bring your supplies to class!
* Tackle boxes come in all sizes, shapes and; price ranges. Some have big drawers, and some have little tiny drawers. Be sure to measure your supplies before buying one, OR you can buy 2 different styles, to be sure all your stuff will fit! I do handpainted custom wall murals, so my favorite tool box is made (by Rubbermaid?) with plastic and it's about waist high, It has wheels on the bottom. I bought it on sale at Fred Meyer for 50% off for only $20 or so. (It was in the plastic garbage pail area in the very back of the store) This super-tall plastic tool box has a large bin at the bottom for my many paints, and in the middle 3 drawers that slide out where I keep my example books and grid paper. On the top, there's a bin for my paint brushes and other supplies. I think this was originally made for mechanic's tools but it suits me fine. I just roll it up to my clients home, lay out the drop cloths and paint away! (01/22/2008)
By Cyinda