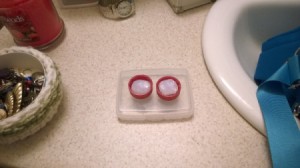 I often spend the night at my daughters house but sometimes it's not planned. And even when it is I can forget things I might need. Today, I made a nice care package (emergency kit) in a bag I seldom use.
Being a light sleeper, I often have trouble going to sleep. So when I went to put in some earplugs, I thought of using an old pill bottle. But, that might mean it's too deep to get them out.
A zip lock baggie meant they might get squished.
And keeping them in the original box meant I would just have to find a place to put them in at the house.
Then I thought of something I could do that kept them clean, in their shape, and small but easy to find. I used two bottle caps. Just put them in and taped them together like a little clamshell. N-JOY!