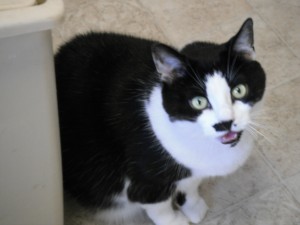 I'm cat sitting for our daughter. Ava is a house cat and, if she's not eating or sleeping, she follows me everywhere I go. She does not like to be held or cuddled but she loves to be rubbed.
I love my grandcat, but it's kind of nerve-racking when I'm in the kitchen trying to cook a meal and she's whining. She has been fed and has water. What she's begging for is attention and she is very demanding. If I ignore her, she eventually stops whining and goes to another room. But ignoring her is hard to do.
I solved that problem with some ear plugs. I put them in my ears and I can see her meowing. I don't hear a thing. It's great! I just say, "It's OK" or "Yes, I know," or I just ignore her.
Only problem is, I can't hear the timer go off or anything else I may need to hear.