I don't have a lot of counter space in my small kitchen and I've been struggling with all the appliances I have been given recently. Between the Instant Pot, the blender, the stand mixer and the newer air fryer, there is no room for chopping or assembling ingredients. So, my husband and I needed to rethink our storage ideas.
We built these corner shelves years ago, to increase the space for our kitchen. They had been filled with cookbooks and decorative items but had gotten cluttered with all sorts of random items that needed a place to go. We removed everything from the shelves and started looking at them for kitchen storage. We were able to remove many of our appliances and store them in plain view right on the shelves.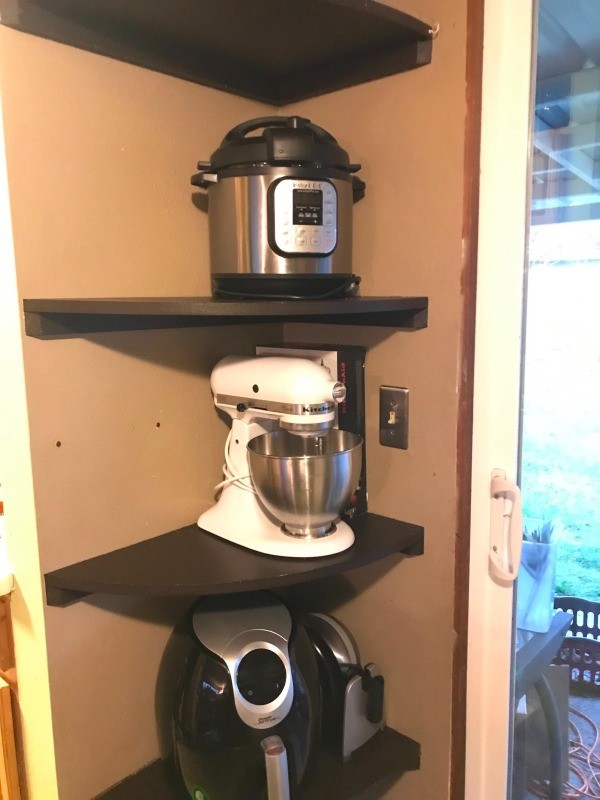 I was able to fit the waffle iron next to the air fryer. It had been in a relatively inaccessible high cupboard so was rarely used. I also was able to store the spiralizer attachment next to my Kitchenaid stand mixer. The appliances in the kitchen are now either too tall to fit on the shelves easily (blender), too messy (like my fondue pot and forks) or get used regularly (like my toaster). Any other small appliances can be stored in my garage pantry shelves or can be donated.
So far, it has been easy to grab the Instant Pot or air fryer to make dinner, then return it to the shelf. And we made waffles for Valentine's Day because it was visible. I hope my ideas can help someone else who doesn't have much space.