We have built in drawers in our master bathroom. I keep everything in its specific spot. One of my daughters, while home for the weekend, used some hydrocortisone cream out of my bathroom. Needless to say, she did not return it to where she got it from.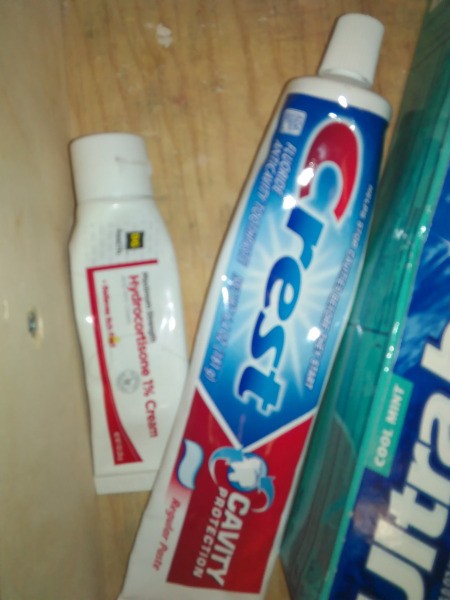 Now, fast forward to the next morning, when I went to brush my teeth after showering and before I put my contacts in. I grabbed the hydrocortisone cream and tried to use it, instead of the toothpaste. As a safety instructor, I preach safety to my kids all the time. Yet, things like this still happen.
Medications should be kept separate from hygiene products. Medications should be locked if there are young children or people with mental issues in the home. Internal medications (those you swallow) should be kept separate from external medications. Eye drops and ear drops should also be kept separate. Mine are separated by drawers, and some of the drawers contain Velveeta cheese or check boxes inside them to further divide the contents.
Most internal medications should not be kept in the bathroom due to heat and humidity issues. Our medications are kept in drawers in our master closet, which we can lock should company come or young children visit. It's also a good way to keep people from snooping to see what medications you are on to not keep them in the medicine cabinet.