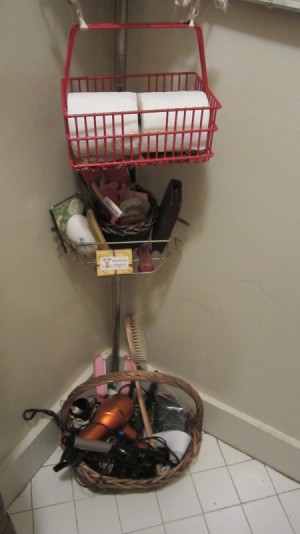 I came up with the idea to store my hairdryer, curling iron, flat iron, back brush, etc... in an empty wicker basket from the holidays. The wicker basket was originally filled with gourmet food. I've put it on the floor in the corner of my small bathroom, under my corner shelving. Because the hair appliances are heavy, having them in the lovely wicker basket is sturdy and accessible. It also looks like nice, like a trendy hair salon!
I wanted to find a nice place for my extra toilet paper rolls.
I took my wire red basket I had, and tied it with ribbons to each side to one of my shelves on my corner shelving. I found that there was enough room between the shelves to hang my wire basket! The extra rolls fit in the basket, and it's a creative way to keep them.
As you can see, I had Fun with these Baskets of Fun! :)