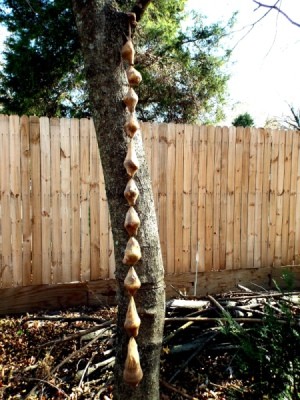 Hymenocallis festalis, the Peruvian daffodil, is a tropical, bulb bearing plant. When grown in the temperate regions, the bulbs must be lifted from the soil and stored indoors for the winter.
I bought 3 bulbs, 3 years, ago. They multiply rapidly. Now, I have well over a hundred. For the past 2 years, I have been overwintering these bulbs upside down in a cool pantry, in a cardboard box filled with Perlite. Perlite has gotten so expensive, I refuse to buy it, anymore.
This year, I will try a different method of storing the larger bulbs. The many bulblets, I will store as before. Again, borrowing from Attosa's tip for storing onions, the bulbs will be stored in panty hose
I took a leg of panty hose filled with the bulbs outside to photograph it. I wanted the other members to see just how these hose will stretch and how many bulbs can be gotten into one leg.
I'll bring the bulbs inside, double the strand and hang it from a hook in a cool pantry. They should do well under these conditions. I'm thinking many other types of large tropical bulbs could be stored this way.
Is there anything new under the Sun? Not really. Most things just haven't been discovered, yet. And if you are not a discoverer, you make do with borrowed technology. Thanks again, Ms Toosa!