August 10, 2010
1

found this helpful
Best Answer
You shouldn't. Soybean products are very prone to spoilage. Tofu, for example, goes bad within days, even in the refrigerator.
The only way to store soymilk at room temperature is to have it prepared commercially, in a sterile environment. Many companies, for example, sell their soymail in rectangular foil paper containers. These can be stored unrefrigerated for up to a year. You can find many varieties in Asian markets and Chinatowns. The soymilk is ultrapasteurized at high temperatures and then sealed in an extremely sterile environment, something that cannot be achieved at home.
If you have no easy access to packaged soymilk but want it year round, your best bet is to buy dry soy beans which can be stored unrefrigerated. When you want soymilk, simply rehydrate and use an electric soymilk maker to make fresh soymilk.
Alternatively, you can also buy instant soymilk powder, available in many Asian markets. Many are already flavored.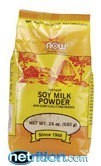 August 5, 2013
0

found this helpful
I tried this as a water bath canning method. It does great in the fridge, however does not do so good outside storage - tried one and it failed - it unsealed itself. It turned into this thick jelly-like substance after about a week.
So then not to waste it, I shook it up and it turned back to liquid state and use it for bread and biscuit making. Might be a pressure canning method out there somewhere. Maybe you can check out the ball preserving and canning website for more information.