Strawberry Lime Cake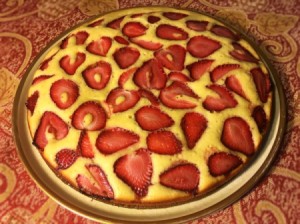 This is an elegant looking yet easy to make cake for these warmer months. The juice from the strawberries seep into the sponge and makes for a really moist cake. Using both the juice and the zest of the limes really gives it a nice kick. I hope you enjoy this cake!
Prep Time: 25 minutes
Cook Time: 25 minutes
Total Time: 50 minutes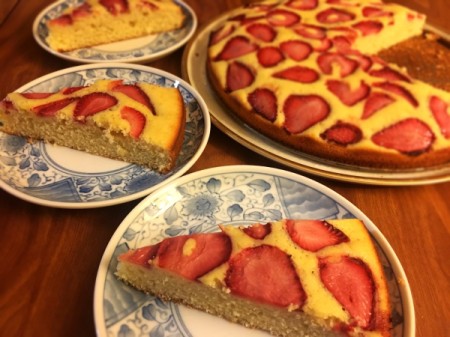 Ingredients:
2 eggs
1 cup sugar
2 cups all-purpose flour
1/2 tsp baking soda
1 tsp baking powder
1 tsp salt
2/3 cup olive oil
3 tsp finely shredded lime peel
1/3 cup lime juice
1/2 cup milk
1 tsp vanilla
8-10 strawberries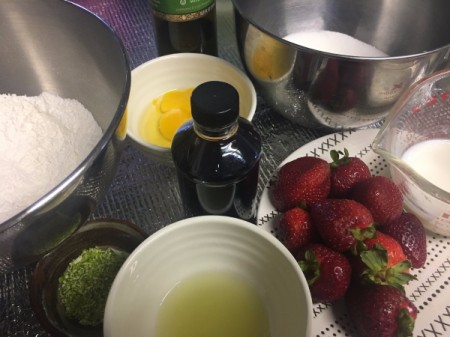 Steps:
Preheat oven to 350 degrees F. Prepare a cake pan by greasing or lining with parchment paper and greasing. I used a 10 inch greased springform pan.
In a large bowl, beat eggs and sugar with an electric mixer for about 5 minutes or until thick ribbons form.
In another bowl, whisk together the flour, baking soda, baking powder, and salt.
In a small bowl, combine the olive oil, lime peel, lime juice, and milk.
Beat the vanilla into egg mixture on low speed. Begin adding the dry and wet ingredients in three additions, starting with dry and ending with wet. Occasionally use a spatula to scrape the sides and bottom of the bowl.
Pour into prepared pan and set aside.
To hull the strawberries, poke the bottom of the strawberry with a straw and gently push through, aiming for the green leaves at the top. The leaves and stalk will pop out in one push. Repeat with the rest of the strawberries.
Slice the strawberries as thin as you can. You'll want them to float on top of the batter through the entire baking process.
Arrange the sliced strawberries across the entire surface of the cake. Place pan in preheated oven and bake about 25 minutes or until a toothpick inserted near the center comes out clean. Cake will be golden and will pull away from sides of the pan. Remove and cool in pans on wire racks for 10 minutes. Remove from pans. Cool completely.
Serve by itself or with a dollop of cream. Mmm!
Add your voice! Click below to comment. ThriftyFun is powered by your wisdom!
July 9, 2017
1

found this helpful
Looks and sounds mouth watering!
You have a lucky family..
July 9, 2017
1

found this helpful
Thank you, Betty! I am lucky, as well. Cooking is keeping me sane these days and it's lovely to have the happy smiles around :) Hugs to you!
July 10, 2017
1

found this helpful
I have fond memories of cooking and caring for a large family but it seems wasteful now to cook very much when feeding only two adults who are not big eaters. But I keep some of your recipes to use when we have family and friends get togethers because they are so easy to follow and I can turn the job (experience) over to a younger friend.
Thanks for taking time from your busy schedule to do such a good job with your directions and photos.
July 11, 2017
1

found this helpful
This is one of the many reasons why I do it, too. I know there are people out who enjoy and can make good use of the follow-alongs. I only say this because this is how I learned to cook. I never listened to my mum when she asked me to watch her cook growing up, foolishly. One day she learned how to use a digital camera and the internet and started sending me step-by-step tutorials while I was in college. I loved them. I found them so easy. I became a good cook. :)
I'm so happy you enjoy these, Betty! I love seeing your sweet and helpful messages across ThriftyFun!
July 5, 2018
1

found this helpful
I have only made this cake 2 times but each time it turned out great! Delicious even to the last crumb (usually the same day).
My dwarf lime tree is producing well and I'm getting addicted to using lime in many other recipes.
You have several recipes that I like and it is amazing how you cover even the tiniest detail (like many in this posting).
I also love that ThriftyFun has made it so easy to find your (and others) recipes in one quick click.
July 3, 2019
0

found this helpful
I'm making this cake for my son's 4th of July 'gathering' as we made it last year and it was a big hit. There is just one problem - even 2 cakes may not be enough as everybody wants seconds!!
Add your voice! Click below to comment. ThriftyFun is powered by your wisdom!