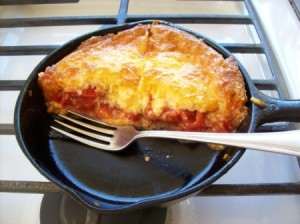 This is a very juicy pie. It's tomatoes after all, so be prepared for drippage! If you don't care for tomato skins like me, they pull right off with your fork.
Just double the recipe and use a regular pie plate, if you want a big pie to share. Hope you will love this as much as I do. All you need to make this scrumptious summer treat is pictured below.
Prep Time: Approx. 30 minutes
Cook Time: 30 minutes
Total Time: Approx. 1 hour
Yield: 1 or 2 servings
Source: Kevin Lee Jacobs' blog and recipe inspired me to try this as a serving for one.
Ingredients:
4 -5 unbaked crescent rolls.
1-2 fresh tomatoes, sliced 1/4" thick.
1/2 cup mayonnaise
1/2 cup shredded sharp cheddar
crumbled bacon bits (optional)
finely sliced basil (optional, but who wouldn't?)
Kosher salt
fresh ground pepper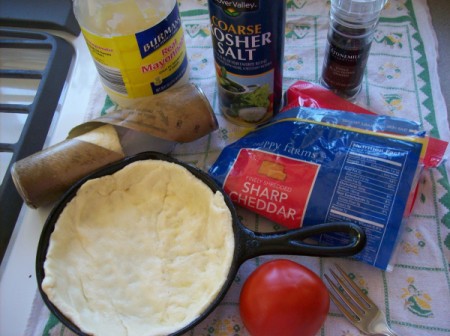 Steps:
Coat a #3 (the little guy) cast iron skillet with cooking spray. Press the crescent roll dough onto the bottom and sides of the skillet; joining any gaps with your fingertips.
Layer tomato slices to cover the bottom. Sprinkle the basil, salt and pepper over the tomato. Add bacon, or not, as you choose.
Mix the mayo and cheese together and plop on top of the tomatoes. Spread to completely cover the tomatoes.
Bake at 375 degrees F. on the rack just below middle for about 30 mins. Watch for browning of crescent edges and cheesy top. That's when you know it's ready.
Allow to cool maybe 15 mins. if you can stand the wait.
I usually enjoy the first half right there at the counter.
Add your voice! Click below to comment. ThriftyFun is powered by your wisdom!
September 3, 2016
0

found this helpful
I got hungry just reading this recipe. It has go to be so good. I too will take the skins off the tomatoes.
Thanks so much!
September 3, 2016
0

found this helpful
Thank you , Likekinds, I should have included that some crumbled bacon on the tomatoes makes it even better. And if you can stand even more yumminess, grease the pan with bacon grease. Definitely not for dieters or those who are paranoid about animal fats, but for those of us whose mother's thought bacon grease was part of the food pyramid, I say, meh, go for it.
September 4, 2016
0

found this helpful
As a child, I ate biscuits made with hog lard, three times a day. I often wondered how my forefathers could have eaten a diet so rich in animal fat and yet live so long.
I think the fat being counterbalanced with lots and lots of roughage, greens, cabbage, etc. was what saved them.
September 4, 2016
0

found this helpful
You're probably right. Balance is the key. And I wouldn't think of making a pie crust with anything other than lard.
September 14, 2016
0

found this helpful
I haven't made this, yet. Tell us about the bottom crust. Does it get done enough, as in flaky, without any pre baking?
September 15, 2016
0

found this helpful
In the original recipe, it called for the biscuits in the pop-open cans. I didn't think they got crispy enough, so I switched to crescent rolls. I think you could try pre baking, but you'll have to watch that the exposed edges don't burn.
I don't pre bake and the bottom is cooked but not real too crisp. Very good this way. Let me know if you pre bake. Maybe I'll try that too just to compare.
August 24, 2017
0

found this helpful
You certainly present this recipe so well, my mouth is watering. This is now on my shopping list. I can't wait to make it and of course "EAT IT." Thanks for a great recipe!
September 2, 2018
0

found this helpful
Love tomato pie. I put the tomatoes in a deep bowl and pour hot water over them. By the time everything else is ready I pour out the hot water and put cold water on them. In a few minutes the tomato peelings come off quickly. My mama taught that to me.
Add your voice! Click below to comment. ThriftyFun is powered by your wisdom!