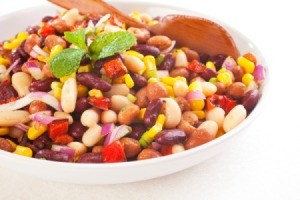 We love the taste and the variety. All you need is in your kitchen. Ten minutes to make and delicious with chicken, beef, and with no mayonnaise, it is a great salad for cook-outs.
Ingredients:
1 cup vinegar
1 cup sugar
1 cup oil (olive or vegetable)
1 medium onion sliced thinly
1 green pepper sliced thinly
2 (16 oz.) cans green beans
1 (16 oz.) can kidney beans
1 (16 oz.) can whole kernel corn
Directions:
Stir together vinegar, sugar, oil until sugar dissolves. Add onions and peppers stir.
Drain and rinse green beans, kidney beans, and corn. Then add to vinegar and sugar mixture. Stir and refrigerate over night. Serve cold and enjoy.
Get creative and add the vegetable you like and make this simple recipe your own family favorite.
Source: From mother's old cookbook
By mary from Oak Ridge, NC