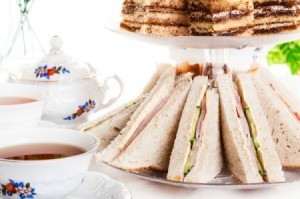 Here are some recipes to get you started on your tea party menu. These are my recipes that I use all the time for my teas. I hope you enjoy.
Tomato Cream Cheese Tea Sandwich
It is very tasty with tomatoes from your garden.
Ingredients
3 ripe tomatoes
whipped garden herb cream cheese, softened
8 slices thin white bread
Directions
Spread cream cheese thinly on bread slices. Slice tomatoes very thin and blot with paper towels. Lay tomato slices on bread and top with bread. Remove crusts and cut into squares or triangles.
Cucumber Tea Sandwiches
Ingredients
2 medium cucumbers, peeled, sliced thin
1 cup white vinegar
1 Tbsp. sugar salt and pepper
8 slices of thin white bread
Miracle Whip mayonnaise
whipped softened cream cheese
Directions
Marinate the cucumber slices in the vinegar, sugar, salt, and pepper for at least an hour. Drain well. Lightly spread mayonnaise and cream cheese on bread slices. Layer the cucumber slices thinly on bread. Top with other bread slice and cut off all crusts. Cut sandwiches in squares or triangles.
Cheddar-Walnut Tea Sandwiches
Ingredients
1/2 cup shredded cheddar cheese
1/2 or a 3 ounce package cream cheese, softened
1-1/2 tsp. chopped onion
1/2 tsp. Worcestershire sauce
2 Tbsp. finely chopped walnuts
dash of red pepper
1 Tbsp. mayonnaise
2 dozen white or whole wheat bread slices
paprika
Directions
Combine all ingredients except bread and paprika. Spread about 1 Tbsp. of mixture on bread. Top with a second slice of bread. Cut off crust and cut sandwiches into triangles.
Spiral Tea Sandwiches
Ingredients
2 ounces cream cheese
1 scallion, trimmed and thinly sliced
1 small cucumber, peeled, seeded, and roughly chopped
1 Tbsp. chopped dill
4 slices whole-wheat bread
8 thin slices smoked turkey
1 roasted red pepper, cut into thin strips
Directions
Combine the cream cheese, scallion, cucumber, and dill in a food processor. Process into a chunky paste. Set aside. Use a rolling pin to flatten the bread. Use a butter knife to spread the cream cheese mix over the bread. Then cover each slice with two slices of turkey and a little red pepper. Roll each slice of bread into a jelly roll shape. Press the roll together and wrap with plastic wrap. Refrigerate until ready to serve.
By Debra from Colorado Springs, Colorado
Editor's Note: You can see some of Debra's other Tea Party tips at the following links:
http://www.thriftyfun.com/tf32095968.tip.html
This is my favorite "tea sandwich". You make your own date-nut bread, and your own cream cheese and olive spread. It's been a family favorite since I first ate one at Chuck's in 1950's Key West, FL