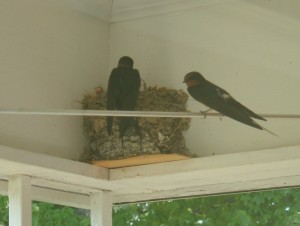 Last spring, a pair of barn swallows built a nest in the corner of our porch. To help them, my husband put a piece of thin plywood up on the ledge to support the nest they were building. It was fun to watch them raise their babies.
Barn swallows build their nest out of mud and grass which requires a lot of trips. I had read that they will return to the nest the next year and to save them some work, it is best to leave the nest, so we did.
They returned this year and instead of reusing the nest as is, they added on to it. So we have a two story nest in the corner of our porch. I put up a rod for them to perch on.
Again, we enjoyed watching these birds. When it was time for them to fledge, one left the nest a couple of days before the others. During the process of the little ones learning to fly, siblings came to lend a hand. We had about 6 barn swallows flying around for several days and dive bombing us while protecting the little ones that were on the ground. We tried not to disturb them any more than necessary.
In a way, I'm glad they have left the nest but I do miss them. Now in the late evenings before dark, we see them flying around catching bugs and mosquitos. They are great birds to have around and are protected by law.
When the nesting season is over, I'm going to take the nest down and clean this corner. I'll leave the support and they are welcome to come back next year and build again.