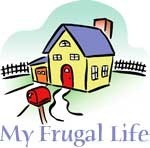 There is a difference between being thrifty; and being cheap. Being thrifty takes into account time and money, and occasionally payback time. Being cheap only counts the amount of money spent.
Being thrifty means that you can purchase more of the things you need or save more money in the future, with your existing dollars.
So always put a dollar value on your time equal to what you get paid at work. I use a value of $20 per hour for my time (1/3 of what the experts say I am worth as a housewife). Then calculate all the costs of making something yourself, especially your time.
For example, making your own laundry soap. Add the cost of ingredients, the amount of time it takes to make it times the value of your time, then add the cost of anything else "used" like electricity for hot water, or heating the mixture.
Then compare it to the regular price of the item. If you are "spending" less by making it yourself, you are being thrifty.
When doing upgrades to a house, you have to consider how long will it take the savings to pay you back for the money you spend or how much value it adds to the resale value of your house. (This is the payback). Always consider the value of professional work done. Any job that you tackle for the first time is going to take you twice or three times as long as it would take a professional to do it. Do you want a job done, or do you want it done properly?
Sometimes, being thrifty means spending more dollars, now to save more in the future.
As for freecycling, I am an avid freecycler. However, there are just some items that I can purchase for less than the total of my time, the cost of gas and the wear and tear on my vehicle. There is one additional thing to consider - the intrinsic value the item has to you. Is the item so unusual that you cannot purchase it in a store? Even when picking up an item for "free", you still have to do the comparison.
There is one thing though that is priceless, and that is doing something because you enjoy doing it. So even if you spend more to make something yourself, but you enjoy making it - that is the best of thrifty living!
By Mary from Hamilton, Ontario
Do you have a frugal story to share with the ThriftyFun community? Submit your essay here: http://www.thriftyfun.com/post_myfrugallife.ldml
Comments

pam munro
Gold Post Medal for All Time! 519 Posts
February 11, 2011
0

found this helpful
This sort of calculation is especially important when considering gasoline prices, so picking up anything would cost some gas $. Also check on shipping costs if purchasing online. One wants to get as much value as possible, not to be just a rag picker!

susan
Silver Feedback Medal for All Time! 472 Feedbacks
February 13, 2011
1

found this helpful
I question your assumption that since it might take you 2-3x the amount of time it will take a professional the first time you tackle a job and the professional would do the job right whereas you might not, it would always be wiser to hire a professional. I personally know several people who have hired jobs out, only to have them done cheaply and poorly. Although the job may be new to you, you can still do the work well. And if you have several to be done (eg: replacing windows), you can save a bundle of money by doing the job yourself rather than hiring it out. It really depends on how handy you are and your prior knowledge of repairs.
I also do many minor things, like mending my husband's work socks, that may not seem to be worth the time. In the long run, I have saved us tons of money by doing them. Many can be done while simultaneously doing other things, like watching a favorite tv show. Other repairs I slip in just because I enjoy doing them, they give me a sense of accomplishment, or stress reduction. I see no reason to avoid them because they don't save me enough money. Like everything else in life, priorities must be set, and everyone's are different.

(Guest)
Gold Post Medal for All Time! 846 Posts
February 13, 2011
0

found this helpful
I am with you 100% on this one! Also, there definitely are certain improvement projects that no home owner should tackle unless they know for certain they can do the job well and completely because if you mess it up you've most likely wasted oodles of materials and will need to hire a professional who will need to replace those materials anyway. For example: I certainly wouldn't tackle tearing out my entire bathroom and redo the plumbing and electrical and put in all new fixtures for it but I do know how to do drywall, build a deck, pour cement, or replace doors, etc.

February 13, 2011
0

found this helpful
Very well said; it's important to calculate everything before tacking any kind of project. If it's done for love, then the dollar amount isn't the most important thing; but if something is done to save money, then I say heed "sweetsoo's" advice!
(I speak from experience, too!)
Read More

Comments