Thrifty Ways to Clean Up and Repair Your Patio Furniture
Solutions
Share on ThriftyFunThis page contains the following solutions. Have something to add? Please share your solution!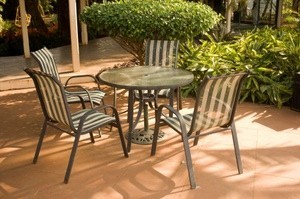 Before you stow away your patio furniture for the winter, take some time this fall to clean it up and make any necessary repairs. Check out how using these everyday household products can make this sometimes unpleasant task easier and more economical.
Armor All: Use it to apply a shiny coat to resin patio furniture. Not only will it prevent dirt from settling on the furniture, it will make your next leaning a whole lot easier.
Baking Soda: To clean plastic or metal patio furniture, sprinkle baking soda on a damp sponge, wipe the area clean, and let dry.
Cola (any brand): This is an easy way to strip paint off of metal patio furniture. Cover the paint you want to remove with a bath towel soaked in cola. Leave it on for one week. Add more cola every day to keep the towel wet. After one week's time, the paint will strip off effortlessly. And people drink this stuff?
Dishwasher Detergent: To clean patio furniture, dissolve a quarter cup of dishwashing detergent in one gallon of hot water. Scrub away the dirt, then wipe clean with a dry cloth.
Powdered Milk: Painted wooden patio furniture can be touched up using old-fashioned milk paint. To make the paint, mix three cups of powdered milk and one cup water until the mixture is the consistency of paint. Add food coloring or colored pigment (available at craft stores) to achieve the desired color. Brush the paint on like you would regular paint, letting the first coat dry for at least 24 hours before adding a second coat. Paint on a second coat and allow it to dry for three days. Once milk paint dries, its durable and long lasting.
Shaving Cream: Clean plastic patio furniture by spraying on shaving cream and scrubbing it with a brush. Rinse off with the garden hose and let dry.
Shoe Polish: Use shoe polish to give wooden patio furniture a high polish. Repeat to achieve a deeper color. Shoe polish is less expensive than stain and easier to apply, and it leaves a high-gloss finish.
Liquid Laundry Detergent and Non-Chlorine Bleach: To clean mildew from vinyl-coated polyester cushions on outdoor furniture, mix one cup of liquid laundry detergent and one cup of non-chlorine bleach in three gallons water. Submerge the cushions in the solution, and scrub with a soft-bristled brush to remove dirt and stains. Rinse well and let dry in the sun.
Wax: Rejuvenate aluminum patio furniture by applying a coat of car wax to the metal.
Vinegar: To get rid of mildew stains on patio furniture (especially on woven straps), spray on full-strength vinegar, then wipe clean. Rinse with water and wipe dry with a soft cloth. Vinegar cleans mold and mildew, but without the decaying affects of bleach.