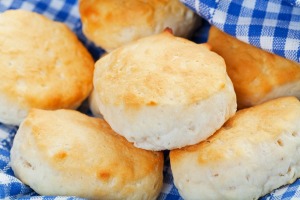 I make a lot of bread. Mostly biscuits and 'hoe cakes'. A bit of trivia, here. Hoe cakes can be made of flour or corn meal. The name derived from the early American practice of putting a small amount of dough on a very clean hoe blade and placing the blade atop hot coals or stones in the fireplace. You could put the dough in a covered frying pan and place the pan in the glowing embers. Then, it would be called an 'Ash cake'.
More trivia. Real Southern biscuits are made with hog lard (I use equal amounts of lard and vegetable shortening) and buttermilk. True Southern biscuits will never see a rolling pin. Rolling makes them tough. Nor will they see a biscuit cutter. A ball of soft, almost wet, dough is very gently shaped in the hands, working the dough as little as possible. A bit of flour may be dusted on the dough as needed to prevent it from sticking to your hands.
A truly good biscuit is not thick or high. Just thick enough to open with a fork for filling with homemade blackberry jelly. More crust and less 'innards' is the key.
To get that 'just right' crust, I brush a generous amount of shortening over the biscuit tops when they just begin to brown and return them to the oven to finish baking.
Later, I would wash and wash and wash that brush, trying to get all the shortening from it before putting it away. I never felt it was really clean. I solved that problem. I stopped washing the brush.
My tip: Just store the brush in a baggie, sealing the top as much as possible. (I do give it an occasional cleaning).
Bo Jangles, eat your heart out!