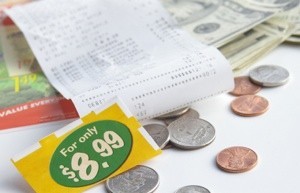 Price matching, asking a store to sell an item for the same price as another store, is a way to get the best deal in town. It's also a way to get the exact item that you're looking for. For instance, if one store offers a great sale on a curtains but is out of the design you want, try another store that sells the same curtain. Even if the store with the sale has the curtains in stock but not the color you'd like, try another store that can price match. Here on some price matching tips for selected large chain stores.
Things to Know
Before you ask for a price match, remember that you must ask the store to match the exact same item and model number. Groceries are the most difficult to match due to the varieties offered on the sales. When price matching, always take a printout or a newspaper copy of the advertisement that reflects the lowest price to the store you'll be asking to price match. Then, be sure to tell the cashier up front that you'll be price matching so that he/she can call a manager as needed while he/she rings up the regular items. Also remember, stores will not honor prices listed on clearance or damaged/returned items.
Walmart
Walmart will price match if you follow their policies carefully. Certain grocery products such as produce and meats must have the same wording in the competitor's advertisement as on Walmart's label even if it is the same item upon inspection. Most other items will be matched without reluctance, provided they meet the normal price match criteria.
Some prices, however, will not be matched. Percentages won't be matched, such as "10% off all Hanes socks." Leave these ads at home. Likewise, "buy one get one" sales are only good for price matching if a price is listed in the competitor's ad. For instance, if it says "BOGO 4/$10 reg 2/$10" then Walmart will match it. If it only says "BOGO on Hanes" then your price match won't happen.
Best Buy
When shopping at Best Buy, there shouldn't be a problem asking for a price match. There are a few offers on appliances that won't count, however. Competitors' ads that offer gift cards or mail in rebates on purchases may not be price matched by Best Buy. Only the total cost when you leave the register, receipt in hand, is taken into price matching consideration. Best Buy, as with other stores, does not match a competition's website price, nor do they match financing offers.
Target
Target was one of the lingering stores not to honor price matching. However, as of July 12, 2009 the chain store is willing to match competitor's prices. The competitor's advertisement must be brought to Target during the sale timeframe in order to be matched by Target. Exclusions include the typical slew of items, such as clearance items, product services, financing options, and damaged items.
Read More

Comments