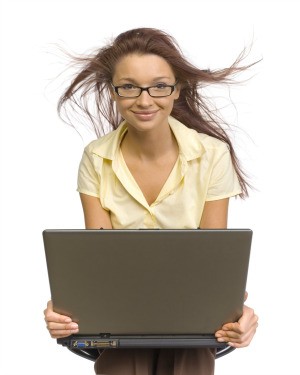 With time a PC will slow down unless you perform some basic maintenance. This has changed a bit with the different operating systems by Microsoft but the tasks are roughly the same.
Temporary Files: Many programs make temporary files and don't clean up after themselves. It wouldn't hurt to do a search on your C drive for all *.tmp files and then highlight and delete them. If you are the paranoid type and don't like deleting files make a folder on your desktop called TMP files and move the files you found into that folder. There are a couple ways to move files.
The easiest way is to highlight all the files select ctrl x on your keyboard then go to the destination folder and select control v or right click and select paste. You should get a pop up box confirming the move. Click OK.
Empty Your Recycle Bin: When you delete a file it normally isn't gone for good. It is still on your hard drive and it is referenced to you recycle bin. Right click on your recycle bin and select "empty". This will permanently delete your thrown away files. You can also permanently delete files by highlighting them, hold down you shift key and press your delete key. A window will pop up asking if you want to permanently delete the file.
Lastly, defragment your hard drive. This puts all your files in a better order so Windows can access the files easier. Think of it as an address book that has been filled in with no particular order involved. It would be easier if the address book was in alphabetical order, yes? This is the same idea.
In Windows Vista you can start a defrag by clicking on the Windows start icon in the bottom left of your screen and in the field that says "start search" type defrag. Be warned, a hard drive that hasn't been cleaned up in a while (or never) can take a good bit of time to defrag.
This is best scheduled to run at night or started before you go to bed. Just remember to leave your PC running if you schedule the defrag to happen. It can't run if your PC is shut down.
Every Windows OS has a defrag (except maybe Windows 95 and I think it did too) and I'm not sure about Linux but it probably does too. It might be called something different but I'm sure it is there.
One more last after thought; I've seen a couple posts on a forum I visit about Internet Explorer slowing down. IE makes a lot of files and keeps a lot of junk. If you IE has slowed down it may do you good to uninstall IE and re-install it. At least that has been the advice by most people. Just make sure you export your favorites and try to save your cookies so you can put them back with your new install.
By Suntydt from Tazewell, TN