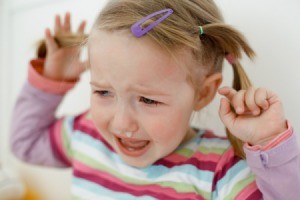 I am a mother of two. I have a 4 year old and a three year old. My 4 year old Zoey is no problem and is very well behaved, but my 3 year old Ashlyn cries over everything way more than a 3 year old should. She is very clingy to me and will not ask her dad for anything. She always asks me and she cries over everything from her sister playing with a toy she wants to not being able to put on her shoes by herself.
When we try to tell her that everything is OK and to stop crying and use her words she somewhat calms down, but is still upset over the situation and continues to whine.
I don't know what to do because everytime we put her in timeout when she cries for no reason she comes unglued and starts screaming and can easily scream for an hour and will often hyperventilate herself or throw up all over the floor from such excessive screaming so I am afraid to put her in time out. The other day we had to lock her cat in the bedroom so my neighbor could bring his dog in our house and she got upset because I told her that the cat had to stay in the bedroom for a couple of minutes and she instantly started crying. I tried to sooth her and told her that she could play with the cat in a few minutes, but trying to comfort her did not help and she just started crying harder and harder until she was crying so hard that she threw up all over my couch.
She is easily bored and when she has no one to play with she constantly whines and cries. She also does not listen at all if we are telling her something. She will look at us, but it is like we are talking to a wall and often if we ask her if she understands what we said she gives a blank look and does not respond to us. Even though she absolutely knows the difference between yes and no she will often say yes to all our questions even if we ask her if she wants us to spank her.
I'm wondering if all this behavior is because she is having trouble controlling her emotions. Believe it or not this has been a struggle since she was born. When she was a newborn she screamed excessively and we thought she had colic, but the problem did not go away and as she gets older her excessive crying over everything has not improved.
I understood when she was a baby and thought that maybe she was just gonna be a baby that cried a lot. But now she is 3 and excessively cries about everything and has trouble calming herself down. At this point any advise will be helpful.
By Ella
Answers

June 15, 2011
0

found this helpful
Best Answer
Even though your child does not show signs of Autism Spectrum Disorder. I would have her seen by a DAN doctor to check out all her levels. Some children are more upset over stimulation than others are. There could be food issues, or allergies present or functions that are not working, sometimes this behavior is a sign of too much or too little of certain foods. I suggest a DAN doctor which stands for Defeat Autism Now, because they are the only doctors that really have a nutrition protocol that really helps children.
Blessings,
Robyn

June 20, 2011
0

found this helpful
Best Answer
It seems llike you have a ton of advice, and I hope that you are not overwhelmed. Though my kids have beeen through many evaluations for several of the syndromes mentioned here, I don't feel it is right, based on your 4 paragrapgs for anyone to alarm you or give a diagnoses. You need a good evaluation, for ADD, self regulation, PDD etc.. In the meantime, give them both lots of love, you can build their self esteem by praising them often, even for the "normal" stuff. We tend to give more energy to the bad (yell loud when they do something wrong, but don't say anything when they are fine, or give a quiet word of praise when they are great- shouldn't it be the opposite?) A great book is "the Nurturing Heart" which is great with intense children. Good luck, Brigitte

Marjorie
Silver Feedback Medal for All Time! 290 Feedbacks
June 15, 2011
0

found this helpful
I don't have any experience in raising girls. We had one son and boys seem to be a lot easier to raise.
It doesn't seem normal for a child to whine and cry over every little thing. You'll have to really get a handle on this, because as she gets older it will get worse and not better.
I advise you to take her to a doctor and see if there is anything medically wrong that can be corrected with medication.

Lilac
Silver Feedback Medal for All Time! 450 Feedbacks
June 16, 2011
0

found this helpful
I think you should have her evaluated to see if there is a problem other than just three year old. AND I wouldn't give preference to a neighbor's dog over my own cat. Why can't the neighbor leave her dog at home? Especially when she sees it is a problem to bring her. I am not talking about the child crying because her cat is locked up. I am talking about the dog making it necessary for the cat to be locked up. Sounds like the dog doesn't behave well.
Read More

Answers