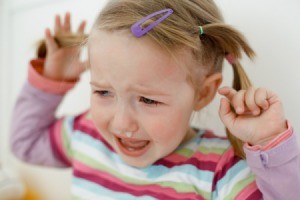 I am a mother of two. I have a 4 year old and a three year old. My 4 year old Zoey is no problem and is very well behaved, but my 3 year old Ashlyn cries over everything way more than a 3 year old should. She is very clingy to me and will not ask her dad for anything. She always asks me and she cries over everything from her sister playing with a toy she wants to not being able to put on her shoes by herself.
I don't know what to do because everytime we put her in timeout when she cries for no reason she comes unglued and starts screaming and can easily scream for an hour and will often hyperventilate herself or throw up all over the floor from such excessive screaming so I am afraid to put her in time out. The other day we had to lock her cat in the bedroom so my neighbor could bring his dog in our house and she got upset because I told her that the cat had to stay in the bedroom for a couple of minutes and she instantly started crying. I tried to sooth her and told her that she could play with the cat in a few minutes, but trying to comfort her did not help and she just started crying harder and harder until she was crying so hard that she threw up all over my couch.
She is easily bored and when she has no one to play with she constantly whines and cries. She also does not listen at all if we are telling her something. She will look at us, but it is like we are talking to a wall and often if we ask her if she understands what we said she gives a blank look and does not respond to us. Even though she absolutely knows the difference between yes and no she will often say yes to all our questions even if we ask her if she wants us to spank her.
I'm wondering if all this behavior is because she is having trouble controlling her emotions. Believe it or not this has been a struggle since she was born. When she was a newborn she screamed excessively and we thought she had colic, but the problem did not go away and as she gets older her excessive crying over everything has not improved.
By Ella
Answers
Read More

Answers