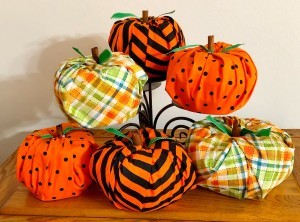 Making toilet paper pumpkins for fall home decor is a wonderfully easy craft to complete. Use a simple, no-sew method to create these delightful pretty fabric home pumpkin accents.

Total Time: 10 minutes per pumpkin
Yield: 1 pumpkin
Link: Toilet Paper Pumpkins DIY
Supplies:
1 Toilet Paper Roll
Fabric*.
3 or 4 inch stick or cinnamon stick.
9 inch Green Ribbon
Pencil. (This is used in case you are using a thick fabric and it does not want to tuck down in the center hole nicely.)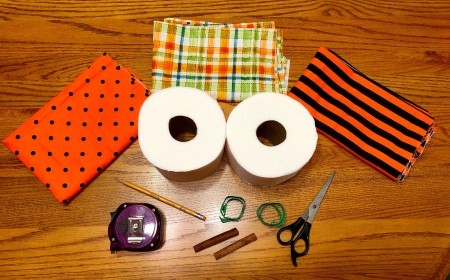 *You can use any type of fabric. Today, I used a thin cotton. However, a flannel can be used as well, but might need a bit more work helping all the fabric fit in the center hole. If you are using a toilet paper roll smaller than the mega roll, then an 18 inch square would be enough. However, for the megaroll, I have found that an 18 X 22 inch piece of fabric (fat quarter) works so much better.
Steps:
Unroll toilet paper 10-12 times. Loosely roll back up. This helps the toilet paper take on a round appearance. I used the megarolls as they are nice and wide and will help the end result look round and fat like a pumpkin.
Trim fabric if necessary to remove any unsightly salvage edge. Lay fabric out on a flat surface with the wrong side out. Place the roll of TP in the center of the fabric.
Take one corner of the fabric and begin by tucking it inside the center hold of the TP holder.

Continue working around the TP roll bringing up sections of the fabric and tucking it into the center hole. Remember, if you are using a thicker fabric, use the pencil to help poke it down into the hole.

It is time to make the stem. If you have not done so already, cut approximately a 9 inch piece of ribbon. Tie it around the cinnamon stick. My daughter and I were going to look around the yard for a stick, but we found old cinnamon sticks in the cupboard, so we used those instead. They still smelled nice too.

Insert the stick in the center of the TP hole. Do not worry if it is not snug inside the hole. I have found that they stay in place nicely.
Add your voice! Click below to comment. ThriftyFun is powered by your wisdom!
Add your voice! Click below to comment. ThriftyFun is powered by your wisdom!