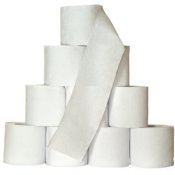 Buy your toilet paper in bulk from online restaurant overstock suppliers. You can get 96 rolls of toilet paper for .67 a roll. Most are double ply, so if you turn one roll into two rolls, you can get 192 rolls of toilet paper for under $65!
By Beka from Catoosa, Oklahoma
Read More

Comments
Toilet paper can easily go to waste, especially if you're using multiple-ply styles, and have people in the house who love to just pull and pull at the roll. We have young ones in the family who love to use our homemade indicator, which shows them where to stop pulling. You can use a simple piece of tape, or get creative with a design.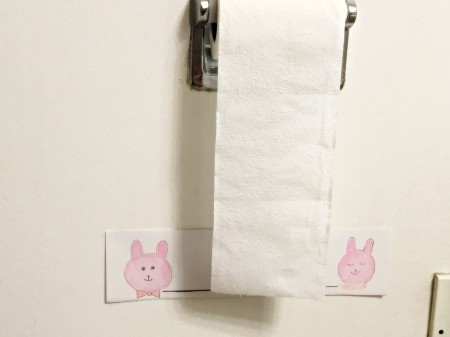 Read More...
Ok, this may sound kinda weird but, what do you do to save on toilet paper? What is the best buy on it and how do you avoid overusing it? TIA

Answers
December 20, 2004
0

found this helpful
I take the price of a bag of TP and divide it by the number of squares total in the package. (12 rolls at 200 sheets/squares per roll is 2400 sheets.) Forget the square footage - people pull off a certain number of squares out of habit.
I found that even at full price, the generic 1000 sheet rolls in a 12 roll pack are the least expensive. It sells regularly for about $9. At Safeway, until Christmas, they have a sale on another brand for $6 a pack.
Just take a calculator and divide it up and you'll see what is the least expensive that week. Another option if you have very young children is to take a roll and divide it into 4-5 square pieces and encourage them to use only one piece per bathroom visit. You can also flatten each roll a bit between your hands so when pulled, the roll doesn't just keep running until it's all on the floor!
May 14, 2005
0

found this helpful
This is simple--no math involved. Buy Scott Toilet Tissue. Our household lends itself to many spuratic sleepovers--we have a recording studio in our home. So, I know how fast the potty paper goes. If you watch your grocery- drugstore weekly sales flyers, you will find Scott on sale for $5.99 at least once every 6 weeks for a 12-pack . And if you clip coupons, wait for the sale and save on. It might not be the plushest TP, but you will be amazed at how long a roll lasts!
May 17, 2005
0

found this helpful
I find that if I flatten the roll of toilet paper so the tube is bent a bit and doesn't roll so easily my family goes through a LOT less toilet paper! Same thing works for paper towels!
By washburn6394
By Sharon,Ky (Guest Post)
May 18, 2005
0

found this helpful
I was once told that putting the roll on backwards helps the problem of extra usage. I've tried it,and it does help.It's just one of those things in life (like buying feminine pads) that us frugal women hate but MUST do, and learn to live with.
June 16, 2005
0

found this helpful
One of my friends successfully used this method to save on toilet paper in their home.
They put a piece of paper with the number "4" on it where it was easily visible to the person sitting on the toilet stool.
All of the members of the family knew that it was there as a reminder to economize.
Guests didn't know what it meant, unless they happened to ask, which is what I did.
By John
June 16, 2005
0

found this helpful
If you mount your toilet paper dispenser so that it is approximately four sheets of paper above the floor, some members of your family, without realizing it, will limit their paper use to that many sheets at a time.
By John
August 19, 2005
0

found this helpful
Teach your kids exactly how much toilet paper they need to use. Most of the time, kids use way too much. Go to www.charmin.com and order the free "Potty Training Kit". It comes with a toilet paper measuring thing that you hang on the roll with your toilet paper so kids can see just how much they should use.
January 20, 2006
0

found this helpful
About Scott's.....The extra soft really is SOFT! I loved cottonelle (cursed with hemmroids after my second blessing) but tried it at my mom's and was impressed! You may have to surprise your family with it, it took awhile for DH to get used to it!
June 14, 2006
0

found this helpful
Use double coupons. Also, there is a good quality, good value brand called BASIC. I believe it's made by the same company that makes Bounty paper towels.
April 14, 2011
0

found this helpful
Don't forget to teach them to wash their hands very well after using the toilet. New mothers and others, after you change your babies, please wash your hands each and every time. You are spreading germs to anything you touch. Babies are cute but not sterile.
October 28, 2015
0

found this helpful
Absolutely right but you should also teach them to wash their hands BEFORE using the toilet in a plublic place or at home. In a house the place with more germs and bacteria is not the bathroom it is the kitchen.
Read More

Answers
How do you determine the best buy on toilet paper? This is driving me crazy!
By Sharon
Answers
August 19, 2011
1

found this helpful
Hi Sharon,
I use the "small package for $1 or less" formula. :)
Usually the packages with oversize rolls will show how many regular size rolls they equal. I take the "regular size" number and divide it by 4, since 4 regular rolls would be in a small package. So if a package says, for example, that it's equivalent to 32 rolls, I divide 32 by 4 and get 8. If the large package is $8 or less then in my mind I'm getting a good deal.
Hope this helps.
August 19, 2011
0

found this helpful
I have had several people tell me the best buy is the Scott 1000 sheet rolls. However, I have visited where people use it and I don't like it.
August 19, 2011
0

found this helpful
I don't like the regular Scott. It is a great value, but it smears too much. If my family won't use it, not much of a buy!
Sign up at various brands' websites and you can get coupons sent to your email, or regular mails.
I usually get the doulbe roll Angel Soft, as it is avail most places I shop.
August 22, 2011
1

found this helpful
You also have to consider the type of paper it is. A person does use less of the high quality brands, so it might be wiser to buy better quality paper rather than the cheapest. I buy the largest packages I can get when it is on sale; I buy a good quality brand as I find it is nicer, and actually I use less.
August 30, 2011
0

found this helpful
It's really true that Scott 1000's are the most economical, especially when on sale. However, I've found *some* store brand 1000's that are just as good.
February 9, 2018
0

found this helpful
I despise scott 1000 sheet YP. Id rayher usr mu hand or nothing. I love sams TP, its better than ANY brand name. 12 pack for $4 or $5 . I use reusable cloths for myself for #1. Saves alot.
Answer

this Question