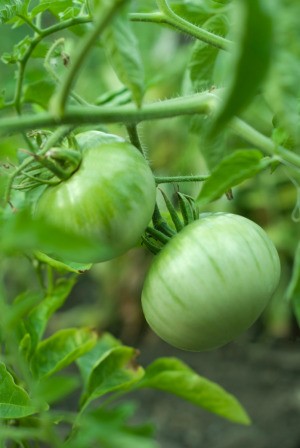 Question:
Our tomato plants have luxuriant growth and lots of green tomatoes but they are taking forever to ripen, and when they do, they're blotchy. They are growing in silty soil but I've put lots of compost into it, and I've been feeding them with Miracle Gro every two weeks. Does anyone have any ideas? Thanks!
Hardiness Zone: 6a
Peter from Silver Spring, MD
Answer:
Peter,
You could be seeing Graywall (also called Blotchy Ripening) on your tomatoes. This tomato malady usually develops on green tomatoes located near the interior of plants with a lot of dense foliage. Classic symptoms include a grayish appearance present on the outer skin of the tomato that is caused by a collapse of the inner wall tissue. If you cut the tomatoes open, you will also see greenish or brownish tissue internally, usually near the outer walls of the fruit. The tomatoes are slow to ripen, and when they do, they develop a blotchy appearance.
Graywall is a bit of a mystery. Plant scientists are unsure exactly what causes this disease, but several theories abound. Graywall seems to occur more frequently during cloudy, cool, wet weather. It's also thought that high amounts of nitrogen can contribute to the problem, and soil containing adequate amounts of potassium may help reduce the likelihood of its occurrence. The best way to prevent it is to try to create the best growing conditions possible.
Tomato plants should receive plenty of sun (including sunlight to their interior foliage). They also need to receive consistent water and fertilizer, meaning not too much, and not too little. Try reducing the amount of fertilizer you're using. If your soil is full of nutrient-rich compost, fertilizing them as often as every two weeks with Miracle Grow shouldn't be necessary. Next year you also might try growing cultivars known to be resistant to tobacco or tomato mosaic virus, both of which have been implicated in some cases of Graywall.
Ellen
More Answers:
No More Miracle Grow
Stop feeding them (Miracle Gro). Fertilizers promote leaf growth, to the detriment of fruiting. Your plants are putting all their effort into growing leaves and not fruit. (08/15/2006)
Pinch the Suckers Off
Try pinching the suckers off (the parts of the plant that don't produce) that will get some shade off the tomatoes. pinch them back at the main stem. Don't be afraid to do this it will help your plant produce more and they will ripen faster. Throw all suckers out of your garden.
By Chas
Stop Fertilizing
Stop fertilizing the plants, once the flowers appear. Otherwise, you will just encourage foliage growth. Some tomato plants are determinate and some varieties are indeterminate. Meaning the indeterminate plants will continue to grow higher and higher. When this happens, snip off the top shoots to encourage the tomatoes to ripen.
By Dorie Crews
Wrap in Newspaper
When ours are big before they get blotchy spots, I pick them, twist the top of bring them in the house and wrap in newspaper. A few days later they are nice and bright red!