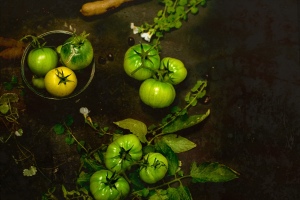 This is an easy way to can green tomatoes for frying. It tastes better than freezing tomatoes to fry.
Ingredients:
green tomatoes ( you can also use tomatoes that are turning pink)
canning salt
spring water
wide mouth jars
Directions:
Wash and slice the tomatoes about 1/4 inch thick. Pack the tomatoes in the wide mouth jars. Add 1 tsp. of salt to each quart or 1/2 tsp. for each pint. Pour the spring water over the tomatoes leave about 1/4 inch from the top of the jar. Put the lids on and tighten.
Assemble all equipment and utensils. Place boiling water bath canner, filled half full with water, on the stove burner and begin to heat. Place an extra kettle of water on the stove burner in case extra boiling water is needed to cover the jars in the canner. Make sure water in canner is boiling. Place jars in canning rack, then place rack in canner while water is boiling. Place jars far enough apart to allow for circulation of water around jars. Water should be 1 to 2 inches over the tops of the jars when boiling.
Process for 8 - 10 minutes. Begin timing for processing as soon as the water returns to a rolling boil. however, at higher altitudes (over 1,000 feet) you will need to adjust processing times.
The canner should be covered during processing. The hot boiling water should cover the tops of the jars during the entire processing time.
After processing time is completed, remove hot jars and place on a towel or rack to cool. Keep jars out of drafts. DO NOT tun jars upside down. When jars have cooled, check for sealing.
When you get ready to eat the tomatoes, drain water off tomatoes and roll in flour or whatever you use to roll them in. Fry in hot oil, until brown. This won't take to long, the tomatoes is already cooked, you're just browning them.
Eat and enjoy.
Source: My grandmother.
By SHARON from Vian, OK
Read More

Comments

I recently canned green tomato puree using the following method. Is it OK for green tomatoes? Canning Green Tomato Puree Using Quart jars.
Chop, blend and cook tomatoes.
Wash jars in hot water with soap and rinse well.
Put jar in pre-steam pot and steam 10 minutes.
Remove steamed jars, one at a time, keep others steaming.
Fill with tomato puree and add two tablespoons lemon juice.
Add teaspoon of salt and top off to an inch from top.
Wipe clean rim of jar. Place lid on jar.
Hand tighten band.
Place in deep pot.
Cover over jars with 2 inches water and boil 45 minutes.
Remove jars, let cool till lid pops in.
Remove screw bands and gently try to lift off lids.
If lid stays firm canning is done.
Let jars cool 24 hours and shelf.
Thank you Bob L.
Answers

(Guest)
Gold Post Medal for All Time! 846 Posts
August 26, 2009
0

found this helpful
Best Answer
As long as you're canning to safety specifications I doubt it matters if the canning done is in a quart size jar. I don't use green tomatoes for anything but there are lots of recipes for them out there including puree.
Answer

this Question