How do I stop my dog from chasing cats?
By Bonnie Jenkins from Prineville, OR
Answers
June 2, 2009
0

found this helpful
Here is a nice article about introducing Dogs into homes with cats and chasing issues.
leerburg.com/dog-cat.htm Robyn
June 3, 2009
0

found this helpful
Is the cat your own or a stray that comes into the yard? If it's a stray, the dog may just be trying to either protect its territory, or maybe (like mine) they simply want to play with the cat. Altho the cat for sure doesn't understand this!
But if it's your own cat that's a whole different ball game. Here's how I have always introduced a new pet (cat or dog, kitten or puppy) to my 2 rambunctious dogs.
I have a fairly large size wire pet cage. I set it up in the middle of the living room with the "newbie" inside. If it's a cat or kitten I set up a small litter box, and for either cats or dogs, I set up food and water in there. Of course with a new dog or puppy I put my 2 in the bedroom while I take the new one outside to do his business.
I keep the newbie in the cage tho till there is no longer any sign of distress on its part, and till my 2 have accepted it and are no longer constantly wanting to be poking their noses into the cage. This can be anywhere from a couple of hours to 2-3 weeks. Just depends on the animals. But I've never had this system fail. It forces them to be together without the worry of fights and anybody getting hurt. Good luck with yours!
June 3, 2009
0

found this helpful
Our dogs have responded fairly well to the "Leave It" command when they begin to bother the cats. That only works when we are present to give the command. After a while they might cease in their attempts to bother cats. Our cats mainly live in the large finished basement w/ their own private picture window, so don't feel sorry for them, they are quite content.
Sometimes the dogs are just curious & sniff the cats or want to play w/ them. It might help to give the dog plenty of attention in the presence of the cat, or pay attention to them simultaneously if you can. There is some valuable info on the internet related to this topic.
Answer

this Question

...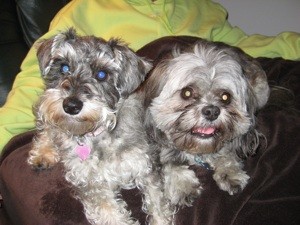 I have 2 small dogs that get along with my friend's cats, until one of cats starts to move! The dogs will sit next to the cats, be nose-to-nose with them and will even try to play with them. But when the dog is is another room and one of the cats walks by, the dogs chase them and become aggressive. Any suggestions on how to get them stop the chase?
By Andrea from Bristol, PA
Answer

this Question

...
How do I teach my dog how to not chase cats?

Barbara from Yacolt, WA

Answers:
Teaching Dog Not To Chase Cats
Tons and tons of exercise to start. A well exercised dog is a happy and calm dog. They also need lots of interactive play with you daily. Dogs easily get bored; especially if you have any working breed strains in the mix. Good basic training is also essential for mental stimulation and pet safety. Stay or similar commands are essential on and off lead for your pet's safety and everyone else's.
You also need to train your dog to return to you 100% by using their name, a command or whistle...whatever works for you. if you already use your dog's name too much, that won't work because they already know to ignore that word. Remember to train by positive reinforcement and praise always. Yelling at your dog is negative attention but from the dog's point of view it's better than no attention at all so they will only increase the frequency of the bad behavior if that's how you try to train them.

Practice as you do your 2 minimum half-hour+ walking/jogging sessions a day. Build up both your skills by increasing the number of dogs and cats you're likely to encounter on your walks and seeing how you progress and gain confidence. When the dog encounters another pet; try distracting him by giving him treats and lavish praise and placing your body physically between the dog and the "target" so they have to focus on you.
The key is to be calm but alert so you catch the dog BEFORE they have a chance to really focus on the cat or other animal. It takes time but they begin to associate cats with praise and treats.
Like any other training this takes persistence and daily work/training and LOADS of exercise but it will work if you're willing to keep at it and adjust your training as need be. (10/16/2008)

By Shelter Worker
Teaching Dog Not To Chase Cats
My cat trained my mom's dog not to chase her by not running! Whenever the dog took after the cat, the cat immediately stopped dead and started to wash. Worked well for her. Of course, this was entirely the cat's idea. We had nothing to do with it, LOL. Of course, many cats are not so gutsy. (10/19/2008)

By Louise B.
Teaching Dog Not To Chase Cats
Here is what we have been doing; Our American Bulldog loves to chase the kitties. So when in the house we keep him on his leash. He follows us around and anytime he starts after a cat we correct him "sit and stay", then give him a treat after 3 seconds of positive action. We then immediately redirect his attention to something else.
This has worked to a point. The cats can now walk into the room and he looks to us for his treat rather than trying to go after the cat. But if the cat takes off running he is going to try to chase it. We are still working but we are making progress. (02/26/2009)
By Lindz