I just got an american bulldog last week. He's a male 2 month old brindle puppy. Does anyone have any tips to help me? He needs to be trained fast. He is a play biter but bites pretty hard.
Jimmy from Illinois
Answers:
Training an American Bulldog
We have a 4 month old Labradoodle whom we adore. We didn't know where to begin with training him. The best tip I can offer you is: crate him. Read as much as you can on crating (you'll find some don't believe in it). But it has saved us! Also, there's a wonderful product on the market called "Natures Miracle". You can buy at pet supply stores. Use for every soiling accident. This stuff neutralizes all odors and really works! Lastly, offer as many chew toys as possible. We keep some of his chew toys in the freezer to help alleviate his teething. Play, play, play with him! It helps to develop a strong bond with the dog. I recommend "puppy training for dummies" book. I read it from cover to cover. Really helpful. Best of luck to you and your new pup! (08/12/2005)
By Maggie from Virginia
Training an American Bulldog
Do not let him play-bite. When one of our cats (she's since crossed over the Rainbow Bridge) was a kitten she used to nibble on my fingers and I let her because I thought she was just playing, or teething. What a mistake! As an adult she would wake me up to feed her by biting my fingers and she would bite hard! Look into obedience classes. I know our local PetSmart offers training in their store. Good luck! (08/12/2005)

By Maryeileen
Training an American Bulldog
What I did with my dog was i had a rolled up newspaper and when he got out of line I would just hit the paper on a table. It was the noise that stopped them from doing what they was doing. You could also just tap the nose of the dog with the paper too. (08/13/2005)
By Joyce wis
Training an American Bulldog
My daughter and SIL have 2 american bulldogs, female 1 year and a new 2 month old male. I have a female rotti 11 months. There was no problems with the female bulldog biting except chewing up everything in the house, but the male puppy is a biter. They are doing to him what I did with my rotti and that is everytime she bites or chews something shes not supposed to (I got this from a rotti training book) hold your hand over "clamping "the mouth shut so just your thumb is visible on snout in front of his eyes and calmly say no. You don't have to clamp hard, just enough to get their attention so that they are looking at you and listening, not hard enough to hurt them. This worked well with mine and it's doing well with theirs. (08/13/2005)
By Terri
Training an American Bulldog
I would take him to an obediance class. I have an American Bulldog and 3 Rottie's. They are all very strong willed dogs, but with taking them to class mine behave perfect and plus it helps them socialize with other dogs. (08/15/2005)

By Donna J.
Training an American Bulldog
I have a 3 month old American Bulldog who loved to play bite. I was concerned because I have a 3 year old, I spoke with a trainer who was friends of the family and she told me to get a spray bottle and fill it with white vinager. Make sure not to get it into her eyes, every time she bit spray a little into her mouth. It worked! I only had to do it two times . (02/19/2006)

By Natalie from Florida
Training an American Bulldog
My American Bulldog is now 6 months old when we got him he was 11 weeks and loved to bite. The best way to stop it is to do one of two things or both, which is what we did. When he went to bite we stuck our hand as far back in his mouth and loudly said "NO" we also grabbed him by the snout and said "NO" he got the point and now doesn't bite at all. Also try lots of chew toys and hard bones. Once the baby teeth fall out it will get better. Good Luck. (05/19/2006)
By Christina
Training an American Bulldog
I highly recommend watching the Dog Whisperer with Cesar Milan on the National Geographic Channel for dog training tips. I have a 13 month old American Bulldog whom I have been raising since she was 10 weeks old. It is really important for this breed to become part of the family and live inside with you. You need to be it's pack leader and set the rules. It is also really important to socialize them around both people and dogs early on. During my AB's first few months she travelled everywhere with me and was introduced to lots of people and dogs!

Sasha, my AB, was crate trained while I was out of the house and she now likes her crate. At first she whined when I left the house. However, since I never went back in when she was whining she quickly learned that it wasn't acceptable behavior. The crate training while I was away prevented her from destroying my house! They will chew up your house if they are allowed to! The two times I left her out I came home to chewed up tables or carpets. I plan on crating her while I'm away until she is two.
As for the biting, make sure that you give your AB lots of toys to chew on. Sasha really loved tug of war toys when she was a little girl. Since the breed has a sensitive stomach, limit your choices to bully sticks, stuffed or rubber toys, and bones. I gave mine pig ears as a puppy and she ended up puking with diarrhea. The dehydration gave me a $700 vet bill!

Good luck! They are great dogs with good temperaments if raised correctly. They are really smart dogs and learn quickly. It isn't necessary to use newspaper to hit them as another person recommended on this website. Use your energy to let them know what is acceptable. Dogs can sense if you are displeased with them. They want to please you their owner. The love you'll get back will make the first few months of work worth it.
(08/25/2006)

By Jen
Training an American Bulldog
I have 3 American Bulldogs. If you have problems with chewing spray vinegar mixed with water on anything they might like to chew. If a bulldog is nipping at you tap him on the nose and say "no bite". While training bulldogs they respond very well to rewards for good actions, such as treats, but also love. Spend as much time with your dog as you can and always work on some training. You must always maintain your position as being the dominant role in their lives. They will be the best dogs you have ever owned if trained right! (01/08/2007)

By C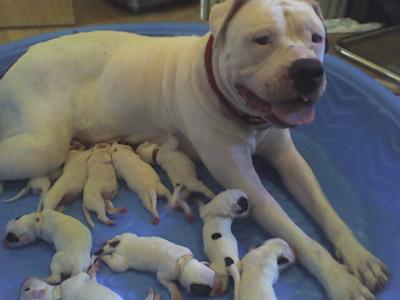 Training an American Bulldog
We got our female AB at six weeks, she's now 11 wks. When she tried to nip/bite, I yelped, turned away all of my attention, within a couple days she was licking instead. We started with crate training, putting her on paper when first out of the cage, it took her a day or so and she was paper trained. We now take her outside and she goes right away. When she barks in her cage, we don't respond with attention and she stops in a matter of minutes. Using treats initially, she learned the sit command. Now she sits as we open her cage, and when her food is placed, sometimes I have to hold her into sit while saying "sit" to make her work for the food.

I do training before her second feeding and use the small kibbles from our Chichiua's food as treats to avoid the extra calories. She is the most loving dog, very smart. I can see the stubborn side emerging and am reading everything I can on raising AB's and watch "Cesar" faithfully. Be patient with your puppy. Read up on BF Skinner's Behavior Modification techniques, those reinforcement methods are what you will need to train your dog!! We started training from day one. I took the night shift and someone took the days. We all did the same thing consistently. Now she sleeps all night.

She and our male chichiua are inseperable, we have to watch both of them closely, she's larger then him now! I just hope the rest of the training goes as well! She gives good eye contact and to maintain that I hold her treat up on my forehead and make her give me eye contact as I give the command.I read that a dog that gives good eye contact is a better listener, more willing to please. It's working. Also, the second I see her trying to chew on something inappropriate, I clap my hands and sternly say no, and give her a chew toy. Now most of the time I just have to say no. Have fun with your AB puppy! (01/16/2007)

By Kathi from Michigan
Training an American Bulldog
My boyfriend and I just got our American Bulldog and she is 6 weeks old. Although I am not new to bully breeds, she is the first bulldog I have owned. Sally is the most wonderful puppy I have ever had. She whined the entire first night because I would not let her on the bed. By night # 2 at bedtime she began whining and I ignored her. Within 5 minutes she gave up and went to bed on her doggy bed and slept almost the entire night. By night 3 she did not whine at all.

As far as house breaking her goes, she is learning quickly. She has had a couple of misses but is getting the point. I recommend the "Natures Miracle" brand of puppy pads which are sold at Petsmart. They have a slight grass smell and seem to work perfect. As soon as I set the first one down she immediatly went potty on it. She has tried to chew a little but we give her a pat on the nose and a firm "NO" (I understand with this breed it is important to have a firm hand but not a heavy one plus she is so young we don't want to traumatize her).

She loves to lick and is very much a cuddler. She nuzzles right in underneath your chin and goes right to sleep. We have already begun socializing her with humans and other animals alive which has proven handy. She and our friends pitt/beagle mix are very playful with one another yet also very sweet. I could not have asked for a better puppy. I love this breed. (01/18/2007)

By Dawn