I have a 4 month old boxer, and he is definitely a handful! But he has successfully been house broken, sits on command, and lays down. One major problem; when company comes over, he wants to jump all over them. I can't seem to get his attention to make him stop, so I just put him in the bedroom until he calms down, or he can't come out. Do you have any tips for me?
Purplenut
Answers:
Training a Boxer Puppy
We have a 16 month old boxer. Congrats! They're an awesome breed.
We had a similar problem with our boxer when he was about the same age as yours. Luckily I found an awesome website and the members there helped me figure out how to break him from it. I'd be more than happy to give you the link if you want it.
One thing that helped us was to give the guests treats for him when they got there, and we told them to ignore him until he was sitting. When he was sitting they talked to him and gave him treats. One major thing I learned about boxers was that they do so much better with positive reinforcement training, rather than discipline. Good luck with your baby!
(01/08/2005)

By Keena
Training a Boxer Puppy
I read your post and had to laugh because I have a year old lab male and he does the same thing, BUT I broke him from jumping on people by giving my guests a small bottle of clear water with a sprayer on top and had them spray him in the face every time he jumped up on them. It didn't take him long to get the message. Now when I get a spray bottle to clean something, he heads for the yard, but it stopped the awful habit. He's just too darned affectionate. Hope this works for you. (01/09/2005)

By peaches
Training a Boxer Puppy
I would try putting a leash on the puppy and when he goes to the door with you. Step on the leash so as to keep the puppy from jumping up on your vistors. After a while he won't jump. (01/11/2005)

Training a Boxer Puppy
Those are excellent suggestions. I've used the water bottle trick to teach a number of cats to behave themselves and it worked great, though I had one cat (my brother still has her and she's older than dirt's grandma) who would fuss at me furiously if she saw me with a spray bottle. She would fuss in long, obviously complete sentences (cat language of course, but I knew what she meant).

I'd consider this a sort of 'last resort' but my mother had a big German Shepherd and he was a great dog except during thunderstorms. Then he would go absolutely crazy. He would then obey no commands and try to get anywhere so he couldn't hear the thunder... he'd even try to get into the fridge. Mom finally talked with the vet and got some tranquilizers to give him and that worked wonders. Every time a storm came up she'd give him one or two and he'd stay pretty calm.

Sadly it was a storm (and an incompetent vet) that killed him. We had to board him at the vet's for a week to go out of town and the vet assured Mom, at her request, that they'd tranquilize the dog in case of a storm. They failed to do so, a storm came up, and he nearly killed himself in that cage. When we came to pick him up his claws were mangled, his paws were bloody, and he couldn't manage to hop into the back of the station wagon. Two days later he died of a heart attack while I was petting him.

I've never been much of a 'dog' person but I loved that old boy and it broke my heart when he died. I tried to get Mom to sue the vet but she was so upset she couldn't handle it.

I am no liberal (by a long shot) but if a vet promises to do something like that and kills your critter because he failed to do what he promised, darn right, sue him. In my opinion if a person's word is worth nothing, he (or she) is worth less than nothing. (01/16/2005)

By Alphtoo
Training a Boxer Puppy
I am a owner of a 5 month old boxer puppy! I am having a problem with her wanting to poop in the house! For instance, I put her out back tonight and she went pee and then I left her back in (because she was scraping at the door) and 5 minutes later she went poop in the house! I wanted to know if anyone had any tips to get her to only go outside. (01/19/2005)

By Heather Shimp
Training a Boxer Puppy
3 month old boxer. need training tips? this is what i used i thank them lots so far <http://www.boxerworld.com> click on the puppy link. (08/06/2005)

By john
Training a Boxer Puppy
A trick I have learned now that I am on my third boxer is to tie a bell to the back door. My 6 year old learned that way and my 9 month old has too. When they need out they ring the bell and we let them out. Good luck boxers are known to have a mind of their own, and slightly stubborn! :) (10/25/2007)

By Missy
Training a Boxer Puppy
Ok I have had Boxers all my life and they are wonderful dogs when trained properly. I have seen a lot of posts about boxers growling and barking and jumping at your feet, most likely they are trying to play. There is a very good way to stop this and many other bad habits such as barking jumping, crate crying, and getting in the trash. Its better to start this young but it has worked on older dogs.

Just get a used empty pop can and put 4 or five pennies in it, then tape over the hole on the top, any time your dog acts out a bad behavior shake it at them or throw it next to them and tell them no in a very firm voice. After a few trys this works very well, mine even stop when I tell them "I'm gonna get the can!" You can also try a spray bottle of water for jumping dogs they don't like being squirted and will usually try to avoid this. (01/21/2008)

By Aimee
Training a Boxer Puppy
I've been reading everyone's posts to find out how to stop my boxer mix baby from jumping, obviously this is common! Ha!
As far as the potty training, tying a bell to the door has worked wonders for us. The bell rings every time the door is opened, so he has learned to associate the two. It only took a few days. Also, he doesn't whine or bark by the door. He just sits there. So it's nice not to have to watch for him all the time. We just listen! (02/27/2008)

By erika
Training a Boxer Puppy
When your puppy bites at your ankle stop lay him on his back and put him in to submission. Do not let him or her up until it submits. Repeat this process and eventually he will learn you are the pack leader and not to bite or nip a the pack leader. (03/06/2008)

By logan.
Training a Boxer Puppy
We just got our boxer he is 12-weeks & very energetic! He's getting the potty training thing, kinda. I think we just need to keep walking to the door every 20min and take him out, then when he goes we just have a mini-celebration and praise him a lot! We've just gotten fetch down, & coming on command to his new name!


I believe any dog can be trained with enough positive reinforcement, love, praise & stern voice w/punishment not abuse, any dog will make it!


A dog is an owner pleaser if they see that something pleases you generally they will continue to do so! Until they see that mad face & here that stern voice realizing your not happy with them they will try to win your heart back with that possibly adorable face, but you must stand your ground your the master!
THERE IS HOPE PEOPLE DONT GIVE UP!
You must shower them with love & compliments and they try will please you forever. =o) (04/06/2008)

By Sanchez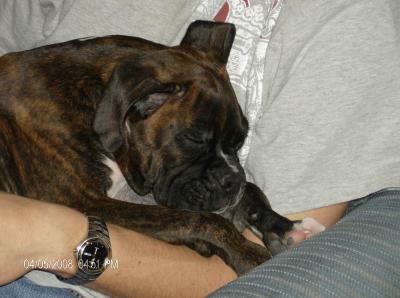 Training a Boxer Puppy
The reason why the boxer will not stop jumping on company is because he has not been taught that it is wrong. Simply get him / her to sit down and stare them in the eyes and tell them no. Repeat if needed. If this does not work hold on to the collar sternly and tell them to lay down. Stay in the position until he or she has calm down then reward after company has left. I have raised over 15 boxers so I hope this information has helped. If you want any tips on dogs and how to handle things you can't fix, email me at jionic_bot AT hotmail.com (04/17/2008)

By James White
Training a Boxer Puppy
I have a 10 week old boxer female, Lilly. I have trained her to sit with treats on her nose. This works great when people come over. She concentrates on the treat and not on the people. Also, the crate training thing, easy as 1,2,3. When they are in the crate and start whining. Wait until they get quiet, get them out and reward them for being quiet after a while they will figure out that they have to stay quiet before getting a treat. Also, if you are going to be gone all day leave the tv or radio on. Would you want to be left alone with no noise? (SCARY) Hope this helps. (04/27/2008)

By Tiffany
Training a Boxer Puppy
I have a five month old boxer male. He is normally very calm but when people come over he also tries to jump and lick everyone to death. What we do is have a loud squeak toy and when people come in do your best to make them sit and wait but if he continues to jump, squeak the toy to distract him. This also helps him get the energy out from the excitement he will run around squeaking the toy for a few minutes and then settle.

Also make sure you company ignores him when they first enter. That helped us a lot. We make our guest come in and sit down without saying or looking at the puppy and once he is relaxed everyone can say there hellos. The toy also works well if he likes to be in peoples faces when eating. (06/22/2008)

By Sara
Training a Boxer Puppy
We too have a six month old boxer. What a challenge! lol I thought I knew a lot about puppies, she proved me wrong. The housebreaking was horrible for the first 2 months, then my vet let me in on a secret. When they potty outside immediately give them a treat, if they have an accident inside ignore them. I know it sounds crazy but it only took a week and she's totally trained, after 2 months of struggle!


As far as the ankle biting, I allow Izzie to wrestle and play with me, but also taught her the command nice when we're done. I just put my hand down flat, so that way she gets to have her rough house time, but knows when we're finished and thats worked great for her.


Izzies fortunately is not a big jumper on our guests but from the beginning I have her sit next to me on the floor, before I even open the door. She knows she needs to stay seated until the guests acknowledge her. That's worked for us, hang in there everybody I know they can be a handful but they're so rewarding! (07/21/2008)

By Izzies mom
Training a Boxer Puppy
Hi, I'm lucky I guess. House breaking went well for me. Very few pees when we first got home, now he wants to go out every time. Bells on the back door work well, he hits them with his nose when he wants to go out. He is 13 weeks old now and real smart. He learned sit, stay, come, paw, give it, drop it, and he walks on his lead with me every day for a mile and a half. Trying to be pack leader and nipping was a whole other ball game. But if you stick with it, you'll win. Biting feet and legs needs a firm "no", and if they don't stop, pinch him or her on their side until they give up.


As far as all the hand and arm bleeds we have all had, grab his nose and mouth and wrap your hand around it. Then, tell him or her no in a firm voice. It won't work over night, but in a week you will see it working. Also, a good growl doesn't hurt now and then. I know boxers, have had them for my whole life. Be on top fast, you don't want the games he is playing now to become a lifestyle to him. Your job is to win every war, and with a boxer you have a lot of war left.

You and your's must rule the house. Watch to see what's puppy's play, and what's pack stand off. Good luck, and I hope I didn't bore you all. Stay cool and don't lose your cool. (07/29/2008)

By glenn
Training a Boxer Puppy
I agree with positive reinforcement training as well. We have a 13 week old boxer. She is learning everything so quick, beautiful pup inside and out but when you get mad at them, they take it to heart and dont communicate as well. Boxers are an amazing breed and I do not have any complaints at all. My pup is already crate trained, housebroken (99%) and so good with people and dogs, would not trade her for the world! Very energetic ofcourse but knows when to calm down. I could not have asked for a better pup!:) (08/19/2008)

By Candace
Training a Boxer Puppy
I may have the answer to the biting and chewing on the pant leg. While your puppy does this make a loud "yulp" sound and turn and walk away. Give it a few minutes before you make any kind of contact with the puppy. The litter mates do this when the puppy is playing too rough. I have a 9 week pup and he use to go after my pant leg as well. I find that this work. The only problem I'm running into is that he doesn't want to come when called. Other then that he's a great dog. I hope this helps (09/18/2008)

By Kelly