How do you train a 10 month old boxer puppy?

Rhale from North Olmsted, OH
Answers:
Training a Boxer Puppy
Dogs do things we don't like for two reasons, they can, and it's more fun than whatever we want them to do. It isn't deliberate on their part to annoy us. Research a quality training center and take the time to attend a good class. (10/11/2008)
By
Training a Boxer Puppy
When the puppy jumps have the person turn around have his/her hands crossed and slowly calmly walk away. Hope it helps worked for mine. (10/11/2008)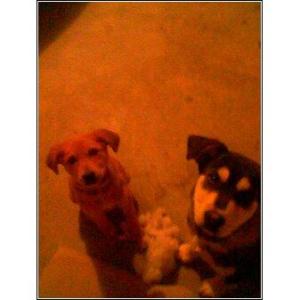 Training a Boxer Puppy
A boxer is trained the same way as any other dog you would get. There is nothing unique here, but from a lot of these responses it shows there are lots of poorly trained dogs about.
Tons of exercise is the first place to start, at least 1+ hours a day of actively jogging or running with you. Opening the door for the dog to go into your yard is not sufficient for the dog or you. At least two half hour long brisk walk/jogs are essential for a healthy, happy dog that is instantly potty trained. They will also pick up other training much faster, because when they have their workout they can focus better. Same thing for us.

You also need good play time. A place where your dog can chase balls or Frisbees in a secure and safe environment. Again, this is a participation thing for you as well.

Routine feeding and walks are essential. Early and late walks cannot be altered to suit your desire to sleep in. I give my dogs a small snack after their first quick am outing in the yard and get ready for the day. Then we go for a good 45 minute+ quick walk/jog and they go like absolute clockwork.
And please; don't be a slob. Pick up the poo! A friend of mine broke her ankle badly slipping on some poo some pig left beside a paved sidewalk and was never able to walk well again. There is no place where it is OK to leave your dog's poop except your compost or garbage can.

Since you ask such a general question about dog training; I would strongly recommend you get some dog books from the library and do some homework. Remember that training should be based on praise given after the dog obeys a quiet, but firm command. Too many people fall into a pattern of praising the dog for everything and essentially begging or asking the dog if they want to obey.

Safety should always come first. Use leashes or coats with reflective tape whenever you walk at night. Teach the dog to stop and wait for your approval before crossing streets. Make sure he gets socialized with people and other dogs, but be respectful. Keep your dog at a respectful distance from others unless they ask to pet your dog.
If you try a new type of lead or harness; always double up and use your old collar and lead for at least a week. You never know how your dog could wiggle out of or break something until it's put to the test. You will be much calmer and your dog will adapt to the new lead more easily.

Don't tease the dog with anything. It's funny to watch a puppy attack a vacuum, but it is a nightmare when you have an adult dog ripping apart your electronic equipment.

Get him used to enjoying car rides in a safe way. He should be trained to stay in the back and if possible with your vehicle; get him used to a dog safety harness. If you wouldn't leave a 2 year old bobbing about the back of your truck; don't do it with your dog.

Good luck. You can train your dog to do anything as long as you make the effort to educate yourself and apply that education to your dog daily. (10/12/2008)
By Shelter Worker
Training a Boxer Puppy
I bought a 14 week old boxer female and had her leash and house trained within 6 days. They are extremely clever, use this to your advantage. I have had dogs my whole life, but have never seen anything like her with my 2 kids. [7 and 4 ]
Amazing dogs. (01/25/2009)

By Trevor