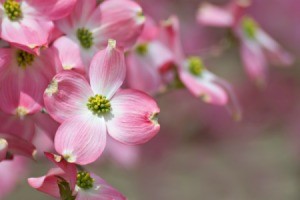 Question:
I have several dogwoods in my yard, and I frequently find what appears to be small dogwood seedlings growing around and about underneath them. Is this possible, and if I move them to an appropriate location, do they stand a good chance of successfully growing? Thanks!
Hardiness Zone: 8a
Thanks!
Tripleb from Greenville, AL
Answer:
What you're finding underneath your mature dogwoods are suckers. Young outer suckers around a mature tree can be easily dug up and divided from the parent plant and then transplanted to a suitable location. Their future success depends on a variety of factors of course, but their success rate is actually pretty good.
To transplant them, lift the root with the suckers attached to it from the parent plant. Several suckers appearing above ground will usually be attached to a single root.
Try to disturb the parent plant as little as possible and make sure you select suckers that have fibrous roots at their base.
Cut the suckering root off as close to the parent plant as possible.
Divide the suckers from the main root. Make sure that they all have their own roots.
Cut each sucker down by at least half and dip the base in a rooting hormone.
Replant the suckers in prepared holes filled with a good potting soil-firming the soil around the base. Water them thoroughly.
If you only want to transplant a few suckers, drive a sharp shovel or spade into the soil to sever them from the suckering root and carefully lift them out individually instead of lifting out the entire root with the suckers attached. Just be careful to avoid damaging other roots of the parent plant unnecessarily.
Once transplanted, it can take several months for the suckers to re-establish themselves. If you do this in the fall, new growth should appear the following spring.
Good Luck!
Ellen
Comments
By JAMES JACKSON (Guest Post)
March 21, 2008
1

found this helpful
I am over 60 years old and have lived in Alabama, Florida, and Tennessee. I don't think I have ever seen a sucker on a Dogwood root. I have seen them on the tree when the tree has been cut or damaged. My technique for reproduction is to harvest the seeds before the birds get them and spread them on the ground and cover them with oak leaf mulch.
Each Spring I have hundreds of baby Dogwoods. I transplant them by using a 6 inch deep bulb planter. I push the planter down into the ground and twist it as if I was cutting buscuits and then lift it up and put it into a 1 gal container. I have a 2 ft tree in two years.

July 28, 2008
0

found this helpful
James,
Have you ever started your seeds in pots, and if you have, when did you plant them? I have 39 seedlings I started my seeds this past spring. Most are working on their 5th set of true leaves and a few are starting their 6th set. They are anywhere from 5 - 7 inches tall right now. I had not planned on planting them this year because they are only two months old right now, and I am afraid they would not survive the harsh Ohio winter. Any tips or comments would be appreciated.

January 7, 2019
0

found this helpful
Crazy thing. I received a floral arrangement over winter that had red beaches about 2-3 feet long cut and folded over heart shape and imbedded into the florist green foam bricks. I kept it watered to make the cut flowers live longer and I am sure the florist had the basic fertilizer for cut flowers. As the flowers died i replaced with artificial blooms. Assuming I would trash all after the holiday I was shocked today to see the red stems growing green leaves.
Its been 5-6 weeks and each stem has leaves and floral buds. The base has roots coming out. Looking up the plant it is a dogwood. Dont know how successful I will be but I plan to transfer to potting soil and plant in the spring outside in northern Kansas.