Transplanting a Weeping Cherry Tree
Questions
Ask a QuestionHere are the questions asked by community members. Read on to see the answers provided by the ThriftyFun community or ask a new question.
I transplanted my weeping cherry tree to a bigger pot. After only a few hours some of the leaves started to wilt and brown in spots. I think I planted it too deep and it didn't get enough water. I removed it and re-planted correctly, giving it plenty of water. Will it survive or did I kill it? Does anyone have any suggestions on how to save this plant?
Answers
July 12, 2019
1

found this helpful
You should transplant in mid to late winter to lessen the chance of transplant shock. You transplanted your tree twice. It seems as though it is in shock. Hopefully it will survive.
July 12, 2019
1

found this helpful
Did you plant in an area with too much sun?
July 14, 2019
0

found this helpful
After transplanting it the first time, i put it in an area where there is sun.
July 14, 2019
0

found this helpful
I am hoping it survives. There is still some leaves at the bottom that are green and healthy looking.
July 14, 2019
1

found this helpful
We don't have any of these lovelies, but friends who do say they are quite sturdy and rebound from many traumas. It probably went into a temporary shock from two moves. They are a lot like people! Change is stressful. Also like people, they get used to things and settle in. I am told they like sun, lots of space for their roots, and an area that drains well.
Post back with an update on your plant.
Answer

this Question

...
I have two 12 year old weeping cherry trees, and they are too close together. Can they be transplanted and if so how do I do it without killing them?

By Barbara
Answers
December 7, 2017
0

found this helpful
If they have been there for 12 years, no. Willows have a very extensive and lengthy root system. It would be impossible to get all the roots. We have one we wanted to move further away from where we wanted to put the septic system and the tree man told us no, that to do so, it would kill the tree.
December 7, 2017
0

found this helpful
If the roots are intertwined, you could harm one or both.
Answer

this Question

...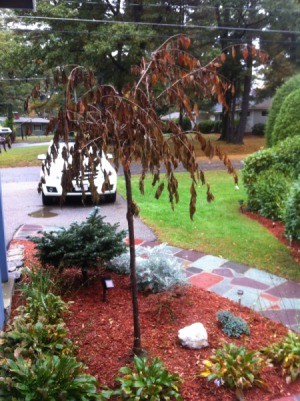 I had a healthy 2 yr old dwarf weeping cherry tree that I transplanted to the front of my yard that gets plenty of sun. It was out of the ground less then 1/2 hour before replanting. I noticed it started wilting immediately. I planted it with plenty of room for the rootball, a little bonemeal, and watered and mulched it. Within a day the wilted leaves turned brown. Since it was healthy, is this stress and shock, not disease? It's been 2 weeks and nothing has changed. It's fall now, would the leaves come back after winter?
By cwl100
Answers
October 14, 2013
0

found this helpful
I would have waited until the tree became dormant and then transplanted it. It does seems like it did go into shock sometimes it doesn't take much. All you can do is be patient and wait until spring. Chances are good that it will green out in the Spring.
Answer

this Question

...
I dug out a small weeping cherry tree from an overgrown terrace. It is about 5 feet tall, with a trunk about an inch+ in diameter. In the process of trying to wrestle out its roots, I managed to lose all the soil around the four prominent roots which I had to tear away from the ground. There were no small roots at all, nothing to really hold a "root ball" together.
Within an hour I had it replanted in a large, deep hole. The hole is dug into pretty hard clay, but the planting soil I used to bed it was good. It's been very hot, however, and it's planted in direct afternoon sunlight. The leaves shrivel during the day and look slightly better at night and into morning before the sun hits it.
We're only on day three of this experiment. If it's leaves don't perk up with very consistent watering, should we assume it has died on the operating table. Seeing those totally bare roots made me think it was a lost cause. Advice?
Thanks.
By Martha
Answer

this Question

...
I want to transplant my weeping cherry. It started as a baby sprout. The trunk is only 4 inches tall and 1 inch wide, and has a 6 foot shoot branching off in the right direction (northeast). Right now it is laying on the ground. When I transplant the tree, can I turn the tree to make it stand up. Do I post it, or do I prune the shoot? It is healthy and has many smaller shoots on it.
Hardiness Zone: 6b
Shannon from Grafton, WV
Answer

this Question

...
Archives
ThriftyFun is one of the longest running frugal living communities on the Internet. These are archives of older discussions.
Q:
I have a weeping cherry tree that was transplanted from the front of my house to the back yard 2 or 3 years ago. I would like to bring it back to the front and was wondering when would be a good time to move it or would it be wise not to do so?
Thank you.
Bee
A: Bee,
Transplanting trees always causes a certain amount of stress. To reduce the potential shock to your cherry tree, transplant it during dormant periods-usually late fall or winter. This is a time when root growth slows significantly or even stops, so shock from transplanting is significantly reduced. You can also transplant in early spring just as the buds are beginning to swell-a week or so before root growth resumes.
Transplanting trees is just like planting them. Measure the diameter of the tree's trunk and multiply that number by 18. That will give you the diameter of your root ball. Dig down (slanting slightly inward toward the trunk) to a depth of 12-24 inches. Remove the tree and place it into a pre-dug hole at a straight angle. As you fill in the hole, tamp the soil lightly and add water every so often to remove any air pockets around the roots. The fill should consist of 70% original soil and 30% high quality compost and garden/top soil combined. Leave up to 1/3 of the top of the root ball above ground, water well and mulch with 2 inches of wood chips or cocoa shells. Leave a 3-4 inch space between the mulch and the trunk.
Ellen Brown is our Green Living and Gardening Expert. Click here to ask Ellen a question! Ellen Brown is an environmental writer and photographer and the owner of Sustainable Media, an environmental media company that specializes in helping businesses and organizations promote eco-friendly products and services. Contact her on the web at http://www.sustainable-media.com