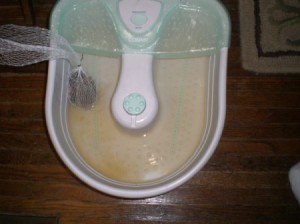 By the end of the day my feet usually let me know they've had enough!
Recently after seeing a spa offer foot soaks with various ingredients while you sip tea (for $50 or more!) I realized I could treat myself to a foot spa even though I'm frugal. I just saved my various flavored tea bags in a bag in the freezer and when I had 8 of them I heated up a pot of water, added them and then put them in a nice foot bath my kids bought for me one Christmas.
I added green tea, lemon tea, and some other fancy flavors to the bath in one mesh bag from my bag of oranges. I added water to cool it enough to be warm, but not burning hot, for my feet and sat down with my another cup of tea and enjoyed the indulgence!
Note: You may also use a little Epsom salt, rosemary spice, lemon, cinnamon, beer, or even milk (even slightly spoiled milk..it's great for skin!). If you have any rose petals or dried lavender you can add that to the water as well. These were all mentioned on the spa's website as expensive optional soaks!
Afterward I rubbed on coconut oil (which is organic and is highly used for cooking now too, plus it smells delicious!) and slipped on a pair of warm socks. Wonderfully relaxing and I really felt spoiled!
This would be a great thing to offer to a mom for Mother's Day and it is a unique idea that doesn't cost much.
Who said being frugal means cheap or living without indulging in nice experiences?