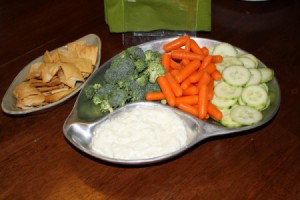 This is a homemade version of the classic Greek mixture of cucumber and yogurt. It is wonderfully versatile; dip for veggies or pita, topping for wraps, sandwiches or burgers, salad dressing or sauce for chicken, beef or grilled veggies.
Ingredients:
1 qt. plain yogurt*
3-5 garlic cloves, minced
2 Tbsp. olive oil
2 Tbsp. cider vinegar
1 cucumber, peeled, seeded and chopped finely
salt and pepper, to taste
*I used Mountain High brand nonfat but you can use any type from store brand to Greek.
Directions: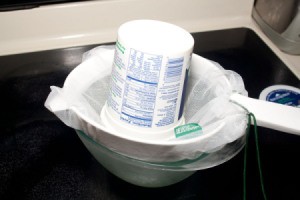 Strain yogurt over bowl for 4 hours or overnight to make yogurt cheese. Cheesecloth is recommended but I used a colander and fine mesh vegetable bag instead. The final product should be about the consistency of cream cheese. Discard the liquid in the bowl. Save plastic container to store finished tzatziki.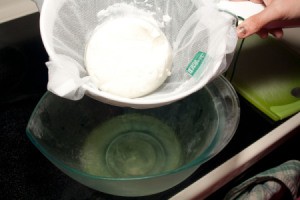 Add garlic, olive oil, vinegar and cucumber to bowl and mix thoroughly.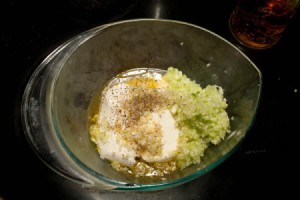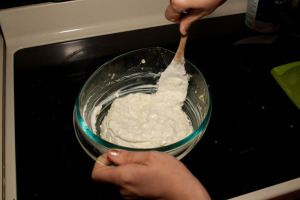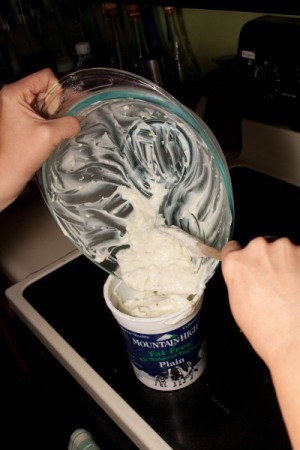 Refrigerate for several hours or overnight. The flavors will get better as it sits.
Notes:
Some recipes call for mint, lemon or other additions and substitutions. This recipe is very forgiving, so be creative. I have also added feta and mixed it in the food processor for a creamy yogurt feta dressing.
I like to serve it as a dip with pita chips and veggies like carrots, broccoli and peppers. It is also wonderful served on top of chicken and vegetables off the grill in the summer.
Prep Time:
24 hours Minutes
Source: I have been making this for years but I think the original recipe was from CookingForEngineers.com
By Jess (TF Editor) from Hillsboro, OR