UFO Cow Abduction Cake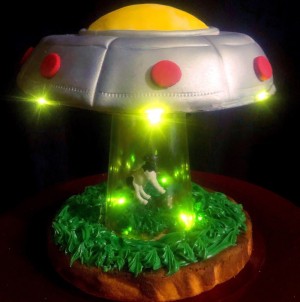 This UFO cake is just out of this world! The saucer and grassy ground area are two different cakes, so there is plenty for a big party. I saved a couple hundred dollars making this cake from scratch instead of calling up the local cake artistry. Plus, it was super fun. Here are the steps on how to make your own!
You can make your cakes any flavour you like, whether it's homemade or boxed. I went with lemon cake for the UFO and orange cake for the patch of grass below.
Supplies:
cake batter
cake pans (10", small dome, 7")
parchment paper
knife
mini spatula or flat butter knife
24 ounces white chocolate chips
8 ounces heavy whipping cream
fondant (white, yellow, red)
rolling pin
sifted powdered sugar for dusting
fondant embosser/cutting tool
flat round cake board (I used the pop-out bottom of a tart pan)
silver cake spray
small round pastry cutter
small plastic toy cow
clear fishing line
packing tape
clear acrylic tumbler cup
green frosting with serrated piping tip
1 strand LED fairy lights with blink mode setting
black electrical tape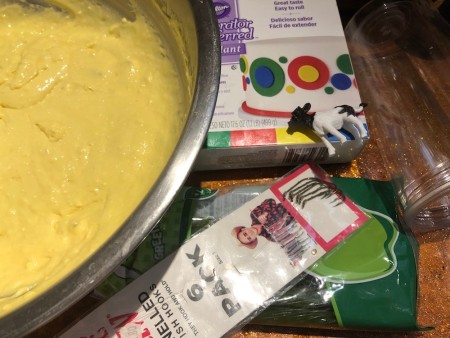 Steps:
Bake your cakes per the recipe you're using. I used a large lemon cake recipe in a large pan and small dome pan. I used a small orange cake recipe for the base of the cake where the cow grazes. I slightly crumpled some parchment paper to line this cake pan with so when it finished, the edges of the cake came out rough like the earth! Allow the cakes to cool, then remove from pans and finish cooling completely on a rack.

Trim off any protruding lips around the edges of the cakes. Turn the largest cake upside down onto the flat round cake board and give it a dramatic slanted cut all the way around. I used the pop-out bottom to a tart pan for this. It's so thin it really hides under the cake so it does not take away from the floating appearance.

I like to knead the fondant well before it's time to decorate so it's easier to work with. Just take it out, knead it with your hands and allow it to rest. I used about 2lb of white fondant, and just a bit of red and yellow.

It's time to make the ganache. The ganache will be the glue between the cake and the fondant. In a heat-proof bowl, add your white chocolate chips.

Pour heavy cream in a saucepan and heat until little bubbles form around the edges, but do not boil. Pour this over the white chocolate and let it sit for 5 minutes.

Stir your ganache and let it sit a bit. You want the end product to be a peanut butter like consistency when you're ready to frost.

Smear on a thin even coating of the ganache on the large cake on the flat board. Let it sit a bit so it dries out. While it's doing that, roll out your fondant.

Use a big, clean, flat work surface to roll out your fondant. I use a big rolling pin dusted in some sifted powdered sugar so it won't stick. Roll it out larger than the cake surface, a little thicker than 1/8" thick. Roll the fondant onto the rolling pin towards you, then drape it over the cake to cover. Smooth it out. Trim around the edges with the cutter or a sharp knife.

Use your fondant embosser to make lines around the saucer. I put pie shape lines to make 8 wedges.

Emboss around the top edge of the saucer too. This will give it a nice industrial metal look to it.

Let's make the yellow glass dome. Make a marble effect by mixing an equal amount of white fondant with yellow fondant and giving it a good twist.

Roll it out onto a clean work surface, a little thicker than 1/8" thick. Back roll onto your rolling pin, then drape over the small dome cake. Trim the edges of the fondant off.

Take a ball of white fondant and roll it into a thickish rope. This will go around the base of the glass dome.

Before you attach the yellow glass dome, spray paint the base of the UFO with the silver cake spray. Spray the long rope you also just rolled out. Let dry. While you're waiting, roll out the red fondant to a bit thicker than 1/8". Cut out little circles with your pastry cutter.

Use a bit of ganache to attach the red lights around the wedges you embossed around the UFO.

Now use some ganache to prop the dome on top of the UFO base, then wrap the silver fondant rope around the bottom.

Now let's make the cow float! Wrap some fishing line around the toy cow and secure with a couple of knots.

Place the other end of the fishing line flush against the base of the inside of the tumbler and tape into place. You might have to adjust this length a few times to make sure that the cow is floating well above the lip of the cup.

Place the 3rd cake upside down on a big cake platter. Use the green frosting with a serrated piping tip to create wispy grass. Leave the sides of the cake unfrosted so it looks like uncovered earth!

Very gently place the cow and clear tumbler in the center of the grass patch.

Gently place the UFO on top of the tumbler so it's centered. It will sink down just a touch due to the weight, but it will be okay! :) This cake definitely looks best with a black background, so do what I'm doing and drape a black bed sheet behind it!

Between the base of the UFO and the thin platter it's resting on, string the LED fairy lights. Cover the lights you don't want seen (going down the back of the cup) in black tape. Set the fairy lights onto blink mode and enjoy the show!
Add your voice! Click below to comment. ThriftyFun is powered by your wisdom!

January 12, 2020
0

found this helpful
This is absolutely brilliant! LOVE the concept, the clear and complete instructions, and the creativity! Wow! Its fabulous! Well done!

January 13, 2020
0

found this helpful
This is the weirdest thing I have ever seen. I totally believe in the phenomenon of the alien harvest presented and researched by Linda Moulton Howe. But to make a cake like this is difficult for me to comprehend. The work is beautiful though. I would love to know where you got your idea.

January 14, 2020
0

found this helpful
Hi Carol! I had two pieces of inspiration for this cake. 1. I saw this really cute toy when I was on holiday in Europe. It looked a lot like this:
www.amazon.com/.../0762493410 (Affiliate Link)
And 2. My husband totally believes there is more life out there than us on earth. He giggled at the toy we saw on holiday and said I could do better than that (he's my number one art fan), so I mixed that idea up with one that's mostly edible, and came up with this :)

poehere
Bronze Post Medal for All Time! 105 Posts
January 14, 2020
0

found this helpful
You are so creative when it comes to food and making food look so good. I just love your ideas and how you put them together. They are fabulous. You did a remarkable job on your cake. I just love it.

Pixiedust7
Gold Feedback Medal for All Time! 679 Feedbacks
March 25, 2020
0

found this helpful
This is hilarious and adorable! I'd love to Pin it on one of my Pinterest boards!
Add your voice! Click below to comment. ThriftyFun is powered by your wisdom!
Published by ThriftyFun.
© 1997-2021 by Cumuli, Inc. All Rights Reserved.
https://www.thriftyfun.com/UFO-Cow-Abduction-Cake.html