In July 2015, I submitted a rather lengthy post titled 'Do Different Vegetables "Cross"?
To me, this is a serious question posed by well meaning people and deserves a detailed answer. Before giving my answer, I did more research than I have ever done before on a ThriftyFun post.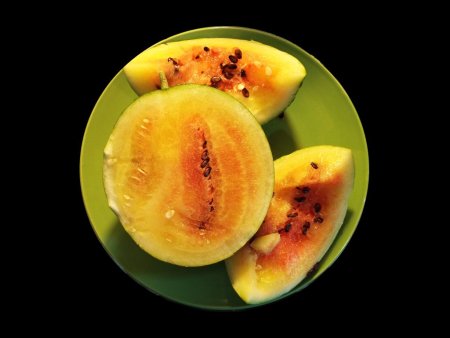 Armed with much information from experts in different fields, I was able to answer the question with an emphatic 'No'. Also, I was able to give detailed information as to why my answer was 'No'.
Here is an excerpt (in my own words) from that post:
"Sorry, people. Things like this just do not happen. Planting squash near cucumbers will not cause them to cross pollinate or taste differently than they should".
Notice the words 'taste differently'.
This year, for the first time in my life, I planted cucumbers in containers next to the containers in which I planted watermelons. For the first time in my life, many of the watermelons I tasted, tasted more like a cucumber than a watermelon. The flesh of these strange tasting watermelons was not red, more the color between watermelon and cucumber.
This year, for the first time in my life, I planted red watermelons in containers beside the containers in which I planted Yellow Doll watermelons. When harvested, some of the watermelons were red, some were yellow, some were a combination of red and yellow. I did not plant any seed that should have yielded a watermelon with a combination of colors.
What have I learned from this? First, planting cucumbers close to watermelons did not result in a 'cross' between the two. None of the watermelon fruit was half way between a watermelon and a cucumber.
Several of the watermelons did have a decidedly cucumber taste. I have to conclude that if pollen from a cucumber is deposited in the flower of a watermelon, while you won't get a hybrid of the two, the taste and color of the watermelon can be significantly altered. I will now believe this until a plant geneticist convinces me otherwise.
Second, when planting red watermelons in close proximity to yellow watermelons, there is a chance of the pollen from one affecting the other. Is the pictured watermelon a naturally occurring 'cross' between a red and yellow watermelon? I think not. Was the resulting fruit of the yellow watermelon somehow affected by pollen from the red watermelon grown next to them? I think 'Yes'.
I am confused more than ever on this subject. I will not spend years studying plant genetics in order to find true answers.
So, even though, in my humble opinion, different vegetables do not normally and naturally cross; the genetic information from one vegetable can somehow, through pollen transfer, affect both taste and appearance of a different vegetable.
The proof is in the picture.
Or is it?