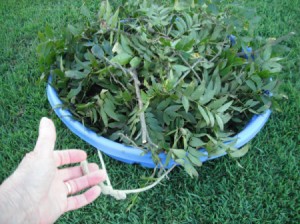 I trimmed some low lying limbs on our pecan tree and thought about Hurricane Florence that is predicted to bring devastation to North Carolina and South Carolina. There is going to be a mess of debris left to clean up.
I wish we had known about this tip, years ago, when hurricane Fran came through our area. It would have been a great help for us.
To clean up our yard, I use a small baby pool. A large one works even better, but for my use, the small one works well and fits nicely under our screen porch where it makes a good cover for my wagon.
With a rope for a handle, it pulls easily across the grass for hauling. It can be picked up for dumping the debris into a trailer or truck bed for hauling to the landfill's mulch pile or dumped wherever you need it to be.