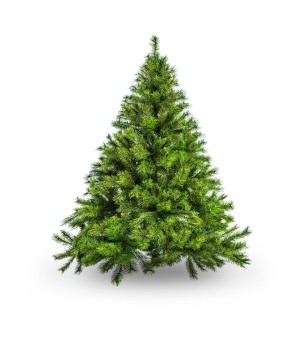 Don't toss an unwanted artificial Christmas tree! Regardless of the reason, if it has realistic branches and will stand up, find a bare spot in your yard near a newly planted tiny tree, perhaps against a fence in the back yard. Dig a one foot hole for its trunk, fill with rocks and dirt, and enjoy it until the tiny new real tree matures!
Meantime, search for other artificial Christmas trees being tossed about this time of the year as they are replaced for "lighted ones" or fuller ones, or taller, thinner, or smaller ones. Most that you find can be trimmed, shaped with scissors and tin snips into temporary beauty for the fence row and give you an idea of what that little new tree and/or shrub might look like in a couple of years.
If you find only parts of a tree, use the tops and shape into temporary shrubs. They hold up well outdoors and look good, even to the most scrutinizing observer! After a time, you will be willing and ready to part with the artificial tree(s) and/or shrubs.
If you are lucky enough to have found or own a silk tree, it will withstand all sorts of weather abuse for that time! Even strong plastic needles survive, but not as long. Unless the artificial trees/shrubs are some weird color, or funky plastic big Bottle-bushy branches, you will fool even the squirrels and birds!
By using all you can find and need, you can fill out or design your own new landscape plan and goals. You cannot beat a visual aid like this! Next, after they begin to look a bit worn, use them as a temporary shade-row for the summer veggie garden until the heat has passed. Then you can toss them for the city/county recyclers!
By Lynda from TX
Comments
Read More

Comments