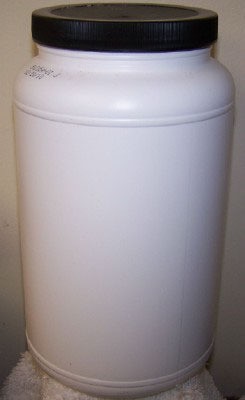 My son goes through two 1 gallon jugs of protein powder per week and I hate to toss the jugs. I know there should be some creative way to reuse them. I had thought about decorating them like stone cannisters but I don't have a clue how to do it. Any suggestions? I have a pic of the plain jane jug.

De from Springhill, LA
Answers
June 2, 2007
0

found this helpful
Best Answer
My husband goes through these too. The uses I have found so far: One year I cut them in half and made 2 flower pots. I do use these for storage as well. I use them to store odds and ends used for crafts, or whatever you want to stay clean....and stuff somewhere when not in use.
I bet they would make nice light shades if you cut/burn designs out and line with colored paper. Please remember these can be recycled too(make sure not to throw them away).
June 2, 2007
1

found this helpful
Best Answer
I tend to use buckets or jugs for watering when it gets hot. Pierce a small hole in the bottom and fill it with water, then set it at the base of a tree, shrub, or any other plant that you'd like to water. It leaks out slowly, and allows the water to soak in instead of running all over the place. I also know people who bury them next to bushes for the same purpose- that way you don't see them. They'd also be good for saving coffee grounds for composting (lots of good suggestions for plants that like them on this site). You could store cat food in them, too- We use rinsed- out kitty litter jugs, but these would work, too.
June 4, 2007
0

found this helpful
Best Answer
If you want to make canisters out of them, try those rub-on graphics you can get in the craft dept. at Wal-Mart or Hobby Lobby. I wanted canisters with roosters on them. I couldn't find any I could afford or that I liked, so I bought plain white canisters and rub-ons that were roosters and made my own.
Renee
June 4, 2007
0

found this helpful
Best Answer
I use them as canisters for flour and sugar. I also have a huge 5 gallon one.. I got that at www.netrition.com. It was a GREAT deal!! I keep my cats food in empty ones like that. It keeps it dry since the food is outside. Cindy
By anniebok (Guest Post)
June 5, 2007
0

found this helpful
Best Answer
I know this is not for you per se, but how about asking local daycare centers if they could use them. I drink protein drinks and take some to the daycare I work at. We use them for storage and make games out of them. I know I love them.
By Will (Guest Post)
July 31, 2008
0

found this helpful
Best Answer
I use similar containers to compost kitchen waste in. I put it through the blender first, with just enough water to make it work, and leave it outside for a few weeks.
It makes very good fertilizer. Milk jugs work very well, too.
December 24, 2016
1

found this helpful
Best Answer
If youre a boater, they can be used to float your crab/lobster traps/trot lines and also used for dry storage that floats!
You can keep ammo in them to keep it dry when kept in the basement.
Fill them with bulk rice or something.
Maybe you can ferment stuff in them!
I filled a pickle jar that size with pocket change. You will have at least $100 when its full.
Makes a great receptacle for mixing/storing paint, nuts & bolts, cleaning solutions, pickled eggs, and maybe a diarama for a kids project.
Read More Answers